Election 2013
Englander/Buscaino Road Bond Off the Ballot for 2013
11:23 AM PST on January 15, 2013
It's official. Moments ago, Council Members Mitch Englander and Joe Buscaino pulled the plug on efforts to place a $3 billion property tax bond that would fund road repair from the Spring ballot. The Council Members ammeded their motion requesting the city attorney draft a motion with language for a ballot in "the future."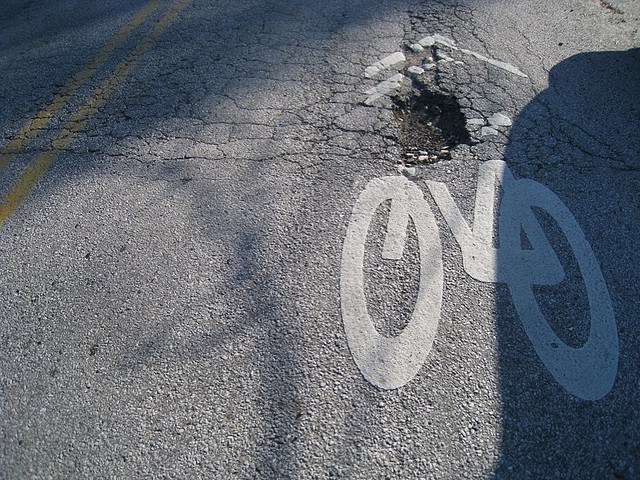 "Providing for safe, well-maintained streets is one of the basic functions of city government," Englander stated while making the case for a future road bond. Once the City Attorney drafts the motion, Englander and Buscaino plan to use it for outreach both to Neighborhood Councils and in the City Council Public Works Committee. Buscaino is chair of the public works committee.
"Not one single person has argued that this project is not needed," stated Buscaino. "But many have argued that we need more time to get it right." A press release from Englander and Buscaino's offices can be found at the end of the story.
In a recent interview, Mayor Antonio Villaraigosa suggested that the November 2014 ballot might be a better time for this measure, or a similar one to be on the ballot. However, no timeline for placing a road bond on the ballot was discussed.
Which is not to say the City Council didn't discuss things. While there wasn't much discussion of bicycle and pedestrian issues, which dominated last week's hearing on the road bond, but the idea that more funding mechanisms than just a property tax could make for a fairer tax. The same idea was discussed in-depth on Streetsblog this morning in an op/ed by Juan Matute.
"Streets are not just used by property owners," argued Council Woman Jan Perry, who is also a candidate for Mayor. "Is there any way to expand that universe...to examine the impact of those users and how they might participate in how they might repair our streets."
Buscaino promised that more options would be looked into, but professed he didn't have any ideas on the top of his head. Westside Council Member Bill Rosendahl thought that Measure R, the 2008 sales tax which has a local return option, could be such a source.
"We need to spend more on our sidewalks and on our streets," the Transportation Committee Chair stated. "There needs to be a multiple approach to this issue."
= PRESS RELEASE = FOR IMMEDIATE RELEASE – Jan. 15, 2013Councilmembers Look to Future Election for Proposed L.A. Street Repair Bond to Expand Public Outreach and Get More Input

Councilmember Mitchell Englander, Twelfth DistrictMedia Contact: Matt Myerhoff, Communications DirectorCell: (818) 293-8962 // Matt.Myerhoff@lacity.org

Councilmember Joe Buscaino, Fifteenth DistrictMedia Contact: Dennis Gleason, Interim Policy Director / Press DeputyPh: (213) 473-7015 // Dennis.Gleason@lacity.org

Los Angeles – Councilmembers Mitchell Englander and Joe Buscaino proposed to hold the $3 billion L.A. Street Safety and Traffic Improvement Bond for a future ballot in order to give the proposal more time for consideration by all Los Angeles stakeholders and to engage in a massive public outreach effort.

The Councilmembers asked the City Attorney to advise on draft language for a future ballot measure and referred the Street Repair Bond to the Public Works Committee, which Buscaino chairs. As part of a planned massive public outreach effort to offer all L.A. stakeholders the opportunity to weigh in, the Public Works Committee will be holding a series of public meetings across the regions of Los Angeles.

"Providing for safe, well-maintained streets is one of the most basic core functions of city government, and is crucial to our economy and our daily lives," said Englander, Chair of the Public Safety Committee, and Vice Chair of the Budget and Finance Committee. "We are excited to have started this important public discussion about investing in improving our City infrastructure to benefit Los Angeles now and in future generations. We want all stakeholders - community members, Neighborhood Councils, chambers of commerce, community-based organizations and businesses - to have the opportunity to weigh in, and that has always been one of the central goals of the street repairproposal."

The Street Repair Bond would be one of the largest infrastructure projects in the United States, and would benefit every person in the City. In light of the depth and scope of the bond and the work itself, it is critical to give people enough opportunity to give their input.

"Early investment in our public infrastructure allowed the City of Los Angeles to grow from a small rural settlement into the vast metropolis that exists today," said Councilman Joe Buscaino, Chairman of the Public Works Committee and co-sponsor of the street repair measure. "If we want to remain a world-class city and attract new businesses and jobs, it is vital that we demonstrate Los Angeles is a city of the future and not a crumbling relic of the past. Our streets are one of the most visible and important components of our infrastructure, and there is no question that they are in poor condition and must be repaired. However, a proposal of this size and scope must allow for thorough review and input from the residents and taxpayers that will ultimately pay for it."

Councilmembers Englander and Buscaino had proposed placing on the May ballot the $3 billion General Obligation bond to repair and rebuild all the failed and poor condition streets in Los Angeles in 10 years. Los Angeles streets are in the worst condition of any major U.S. city, costing vehicle owners about $750 in additional maintenance every year. Chronic under funding of street maintenance from the 1950's to the 1990's led to the deterioration of 8,700 miles of city streets which now must be completely reconstructed. Budget constraints only allow for a very small number of streets to be reconstructed every year. At the current rate of repair, it would take 60 years to reconstruct all 8,700 miles of failed streets.

Once the backlog is gone and the failed streets are rebuilt, they can be slurry- sealed and maintained at a much lower cost, so the City will be able to maintain them in good condition on an ongoing basis. When they are reconstructed, the streets would be re-configured to improve traffic safety and traffic flow, which would improve 911 response times. Improved crosswalks and implementation of bicycle master plan features would make the streets safer for pedestrians and cyclists as well.

The improvement to our streets would boost property values and generate jobs and economic benefit. The funds from the bond could not go toward any other purpose than the designated street repair, and would be placed in a trust fund with a Citizens Oversight Committee to ensure transparency and accountability.

An informational website has already posted with detailed information about the Street Repair Bond, including an FAQ page, a PowerPoint presentation, and links to several studies and reports about the condition of L.A. streets and the benefits of investing in infrastructure. To see the website, visit https://sites.google.com/site/lastreetbond/home.
Stay in touch
Sign up for our free newsletter