Boyle Heights
Corazón del Pueblo Pumps Community Life Into First Street
1:05 PM PST on December 5, 2012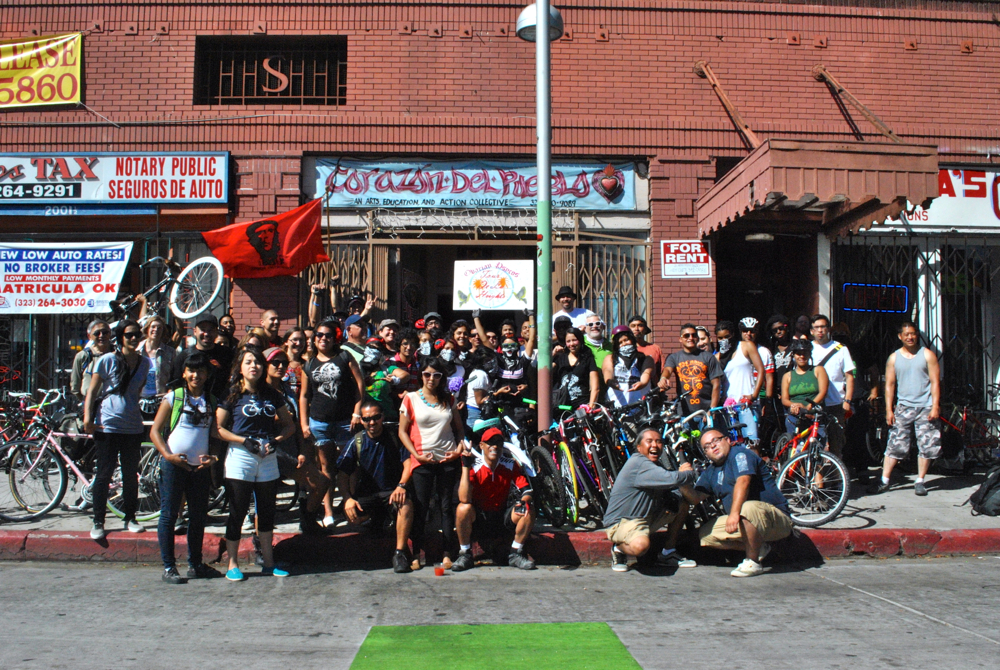 When I try to talk to Rooster, a 20-year-old Eastside resident, he is visibly nervous. When we finish talking he says "You sound like a cop." But when he speaks in public at Corazón del Pueblo's Flowers of Fire open mic poetry night, he commands the stage.
Rooster riffs spoken word on the hypocrisies of the economy, jokes about sex, and opens up about his undocumented status and being queer. He recounts different experiences, and last wednesday he spoke about getting arrested at an immigrants rights demonstration.
"I look around  and realized that fear had seeped into other participants eyes, but we stayed, stood our ground. Fuck the fear, our love for justice is more profound."
The Flowers of Fire: Black and Brown Unity open mic brought people who had plugged earrings, ponchos, and sweaters that read Compton across the chest. Rooster knows most in the audience, not all. But that doesn't stop him from sharing.
"I've never really understood what a sense of community was until I came here," said Rooster about Corazón del Pueblo.
The volunteers at Corazón del Pueblo, an arts, education, and social action center, have worked toward creating a space for the neighborhood the past three years that ultimately is served by its resident. Separating itself from traditional non-for-profit model by forgoing 501(c)3 status, it's a not-for-profit in the purest sense, where volunteers ask for donations, all programming and classes are free, and everyone involved in the space has the potential to influence its future.
"Anybody can do this," said Francisco "Paco" Arago, Corazón board member. "If anyone leaves tomorrow, it still continues."
Corazón celebrated its three-year anniversary this Saturday, an event that featured renowned poets including Luis Rodriguez, Josefina Lopez and Richard Montoya; and younger musical acts like La Chamba and Las Cafeteras. With more than 400 people in attendance, it was a culmination of all the effort the volunteers have put into Corazón and the connections they have made along the way, said Arago.
Corazón started after the previous tenant Brooklyn & Boyle gallery closed shop (the Brooklyn & Boyle newspaper still exists today, but the gallery closed in 2009). The day after the announcement of B&B's closure, Abel Salas, B&B's founder, Francisco "Paco" Arago, Skira Martinez, Leon Arellano, and Iliana Carter-Ramirez got together the next day to find a way to save the physical space.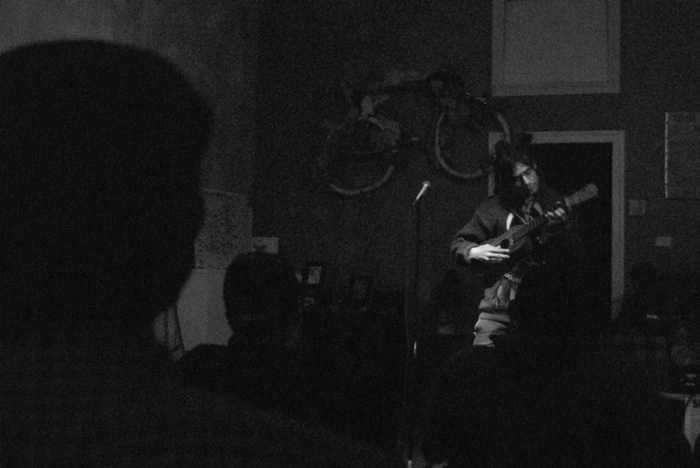 From that meeting much of the foundation was laid out. First, they decided that the space wouldn't make money. Yet with a $1,250 rent, and running on a month-to-month lease since the beginning, it's been a struggle for the space to survive.
"We definitely were a little naive to the financial aspects," said Martinez.
Yet, Corazón wasn't without help. The landlord waived the group's first month's rent after they proposed what they wanted to do with the space. Donors like Carlos Montes, a local eastside activist, gave $100/month when it first opened and Antonio Rodriguez continues to give $200/month to the space. Ruben Guevera, a local musician, used a grant he received to start Corazón's first curriculum, which brought in various artists to teach at the space. When Corazón's held its first event, Bohemian Nights in Boyle Heights, board members worried that nobody would turn out. Instead, more people attended than for any event before Saturday's blockbuster.
While the board members built momentum, they were still the space's community organizers trying to bring people in, they were the janitors taking out the trash, and the one's keeping the doors opened, Martinez said.
But the hands on approach of not just asking people for help, but challenging them to do work started to make people feel they owned the space. When Corazón were painting the walls when they first opened, they invited kids from the neighborhood to help out.
"You can't just open the doors and say this is your space," said Martinez. "I think the hands on approach and the way that everyone does stuff gives them that sense of this is really my space."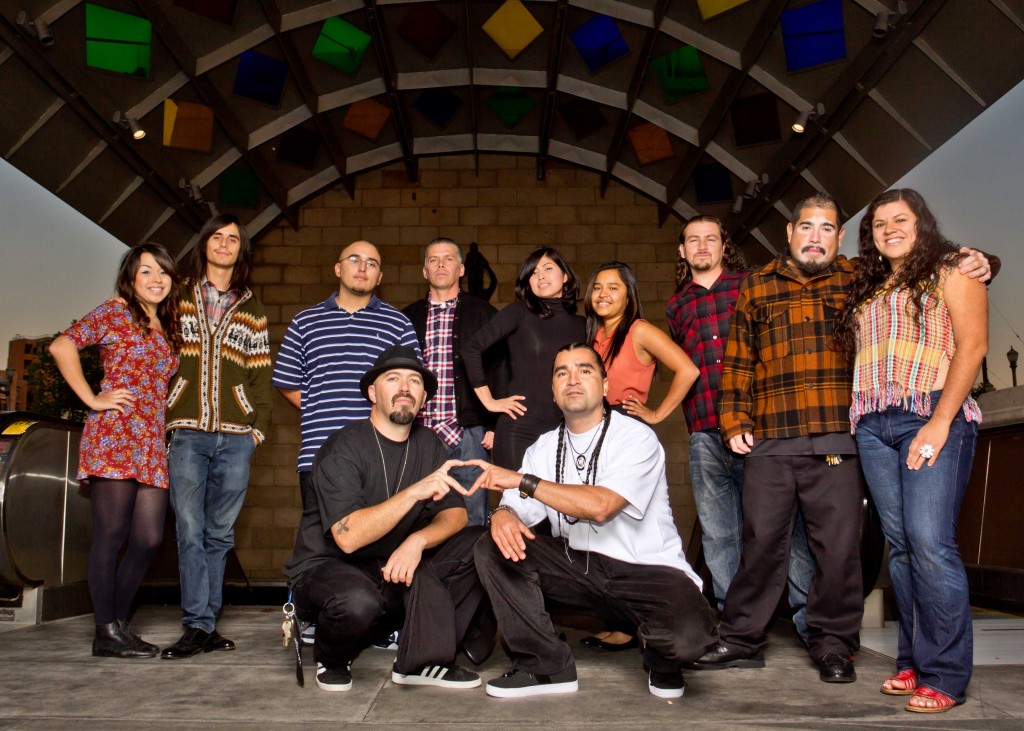 ***
All the board members currently involved have roots to the neighborhood. Leon Arellano grew up in the Aliso Village housing project, and one of the youngest members Jessica Rivas, 19, lives right behind Corazón del Pueblo.
Each Tuesday, the board members have two-hour meetings to talk about the month's and weeks business. They listen to presentations from outside groups asking for CDP's support, assign shifts to members on who will open up the doors, and who will buy coffee and sugar. Being a part of the board, members are required each to contribute $20 per month, or do work that is of equal value.
Many of the board members have taught classes before they were introduced to the board. Sammy Carrera taught salsa and cumbia classes when the space first opened, and Xochitl Palomera taught aztec dance. Palomera said that she didn't feel like an artist until she tried performing at Corazón's events.
"At Corazón, we're all artists. . . here it's ok to share it," Palomera said.
The space itself is no bigger than the pet and liquor stores that neighbor it. Yet instead of selling wares, the space sells knowledge, offering classes that range from learning indigenous languages, to painting, self defense ji-jitzu, to a knitting class on the weekends. Corazón lets groups host their own meetings and events there for free, as long as the people going to the space donate. DREAM activists have held information sessions, labor unions have held meetings  and CicLAvia have used Corazón as a venue to discuss the Eastside reroute.
While the board members also have day jobs, and the space opens based on their availability, it's open almost six days a week.
On a few occasions, Corazón has thrown last minute fundraisers to keep their doors open. Sometimes it's a house party, other times its a pot luck. But this month to month mentality, said CDP board member Leon Arrellano, is nothing that he or the board fears because it's a working class mentality that he and the other volunteers have lived.
There is more community support than ever. At night, it's the only all ages space in Boyle Heights open late-night on a weekly basis. Stephanie Lozano, a student in the Nahuatl class, said that lessons to learn an indigenous language could cost thousands of dollars to learn, but at CDP its free.
Ray Gaña, a 26-years-old Boyle Heights native, said that he has been returning to the Corazón del Pueblo's Flowers of Fire open mic because its been reflective of his own identity as a young chicano, and pertinent to the issues happening in Boyle Heights.
"That's when i learned that this place has a Corazón. Without everybody's support it wouldn't be pumping."
---
2003  E. First St.
Los Angeles, CA 90033
To donate, click here.
Stay in touch
Sign up for our free newsletter