Give Me 3
Governor Shocks Cyclists with "Give Me 3" Rejection, Approves Bills Making Infrastructure Improvements Easier
10:39 AM PDT on October 1, 2012
(Note: It was a busy 72 hours in Sacramento this weekend. Streetsblog will split it's coverage of Governor Jerry Brown's signings and vetos into two separate stories, one pertaining to bicycles, and a second post for everything else.)
For the second year in a row, California Governor Jerry Brown issued a last-minute veto of legislation mandating a minimum three-foot distance for motor vehicles to pass cyclists. However, two other bills making it easier for cities to implement bike lanes got the governor's signature, albeit in watered-down form: AB 2245, which exempts bike lanes from excessive review under the California Environmental Quality Act (CEQA), and AB 819, which establishes a Caltrans experimentation process for adopting currently non-standard innovative bike lane designs, like physically protected bike lanes.
When Brown vetoed the 3-foot passing bill last year, he argued in a widely panned veto-message that a three foot passing law would damage the "free flow of traffic" and proposed a change that would not address his stated problem. This year, Senator Alan Lowenthal (D-Long Beach) made the changes that the Governor requested to SB 1464, but Brown and his advisors created a new reason to veto the legislation.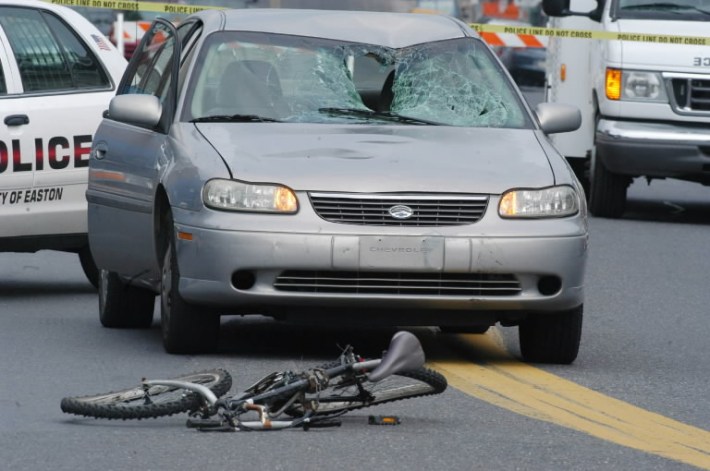 This year, the Governor's veto message expressed concern that the state would be liable for any crashes caused by reckless drivers who crossed a "solid yellow" line to give cyclists the three-foot buffer. The veto message also stated that Caltrans proposed a solution to "this issue," but that Lowenthal's office refused to make the change. Caltrans did not return calls for comments, and advocates familiar with the legislation professed to have "no idea" what the Governor was referencing.
In the nineteen states that have three foot passing laws and the one that has a four foot passing law, Streetsblog can find no evidence that the kind of lawsuit the Governor fears has ever been successfully prosecuted. The California Bicycle Coalition (CBC) reports that the California Department of Finance, the department responsible for tracking whether legislation opens the state to lawsuits, opined that current law would protect the state from these sorts of lawsuits. The CBC also notes that the language the Governor is concerned with was included in 2011's three foot passing law, and that neither the Governor nor Caltrans expressed any concerns last year.
Cycling advocates were incensed at the veto.
"It's pretty clear that the Governor is out of touch with what is happening on our roads," writes Eric Bruins, the Policy and Program Director for the Los Angeles County Bicycle Coalition (LACBC). "With the distracted driving bill and the 3-foot passing bill, the Legislature is responding to the public's concerns about traffic safety.  It's time for the Governor to engage on these issues and protect victims of dangerous and distracted driving."
The California Bicycle Coalition was even harsher.
"Brown has offered no indication of how he views bicycling or expressed any ideas for ensuring the safety of Californians who rely on bicycling as everyday transportation," writes the Coalition on their website. "By vetoing SB 1464, he makes clear that he prioritizes legalistic speculation over the safety of Californians."
"We're deeply concerned about what his lack of vision and leadership means for the safety of our streets and roads."
Ted Rogers is the author of the website Biking In L.A. and a member of the LACBC Board of Directors. After last year's veto, Rogers and a handful of other bloggers began referring to a cyclist being buzzed or struck by a passing motorists "being Jerry Browned." When asked if he thinks "being Jerry Browned" will catch on, he argues "He deserves to be remembered for this for the rest of his hopefully short political career." Rogers was speaking for himself, and not the LACBC.
But the news wasn't all bad for cyclists out of the Governor's Office. While Brown refused to "Give Me 3," he did sign two pieces of heavily amended legislation that will make construction of bicycle projects easier.
AB 2245, introduced by Asm. Cameron Smyth (R-Santa Clarita), exempts bicycle lanes already included in certified bicycle or circulation plans from the environmental review requirement in CEQA. The first draft of the legislation applied to all bicycle lane projects, but as noted on Cycleicious, during the hearing process the bill went from sixty words to more than three hundred and sixty words, somewhat watering down the initial intent.
The new language has created some confusion, even amongst planning professionals. For example, The LADOT Bike Blog wrote on Friday, "We'lll have more on this as we figure out what it will mean for the City of L.A. and the many bike lane projects we have in the works."
But experts still see a "win" for communities that want to put down more bicycle lanes for two reasons. First, it reduces the bureaucracy and paper work required before a bicycle lane can be painted by cities, although local outreach and even public hearings can still be required. Second, because CEQA is taken out of the equation, cities won't have to base their analysis on car-centric "Level of Service" traffic projections for thirty years in the future.
"We're interested to see how the CEQA/bike lane bill can help communities meet their goals of greater accessibility and healthy, sustainable options for more biking," writes Leah Shahum with the San Francisco Bicycle Coalition. San Francisco, which was bogged down by a frivolous four-year bike injunction after a CEQA lawsuit, could perhaps benefit the most from AB 2245 if bike lane projects are no longer the required to meet standards under Level of Service, which projects delay impacts for automobiles. Those projections are particularly "bad" in the Bay Area over the next thirty years, according to LOS.
AB 819, introduced by Bob Wieckowski (D-Fremont), is another piece of legislation that many cyclists view as an improvement but concede the language was watered down in the legislative process.
The law signed by Brown on Friday creates a Caltrans-led committee that will decide how cities can "experiment" with cutting-edge bicycle infrastructure. The original draft of the bill, as profiled on Streetsblog, allowed cities to adopt recognized design guidelines such as those created by the National Association of City Transportation Officials (NACTO). While AB 819 may allow for some infrastructure projects to advance that might otherwise stall, one proponent of advanced cycling infrastructure, who wished to remain anonymous, scoffed that, "The idea that California is so exceptional that we have to do an experimentation process for infrastructure that has been proven, and in use, for decades around the country and around the world is simply absurd."
Ultimately, the value of the legislation will depend on the makeup of the committee. The CBC promises to keep on top of the committee's formation and report back on its actions.
Stay in touch
Sign up for our free newsletter