Long Beach
Part I: Architects, Advocates, Ponder Future of Long Beach Civic Center
11:24 AM PDT on September 12, 2012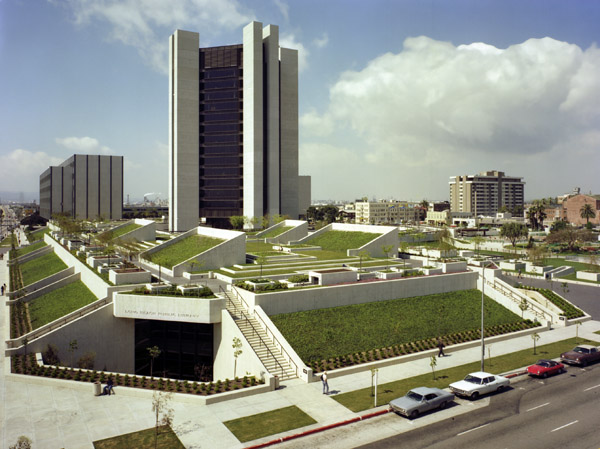 Monday night, Long Beach Heritage (LBH) and the Long Beach/South Bay chapter of the American Institute of Architects (AIA) hosted a discussion posing one question: What are the possibilities for our Civic Center?
That question--simple albeit absolutely essential--was mainly focused on the 1978 Civic Center that currently huddles between Ocean Blvd/Broadway Ave. and Magnolia Ave./Pacific Ave. Many consider the building dilapidated given questionable structure analyses, as well as uninviting given the abandoned rooftop garden that once sat atop the Main Public Library along with the center's overwhelming brut architectural style.
Dr. Suja Lowenthal opened the evening with the most philosophical of presentations, discussing the relation of a civic center to its citizen. For her, the "public living room" is not just an essential space, but a deeply personal one as well:
"I've only lived here for 15 years and there is something to be said when you choose to live in a city and fall in love with it--as opposed to when you're born here and you inherit the culture," supplied the Council Member. "There comes this desire to be a part of the fabric of this community... I think that makes it more magical to come together to revision [sic] and envision our Civic Center."
This particular form of discourse--to come together to discuss possibilities--seemed to be the main thrust of the evening. After all, the concepts of Long Beach's civic center ideals over time were highlighted through a historical review via Maureen Neely, a librarian and historian whose approach with history--how do we regard what we proposed and did in the past in order to gauge our civic future?--seemed to open the evening up to a multitude of angles and discussions.
However, the night's overall arch seemed driven by a singular point: to figure out how to "fix" Don Gibb's 1978 center. And by fix, I mean that conversation seemed relegated to renovation rather than revision.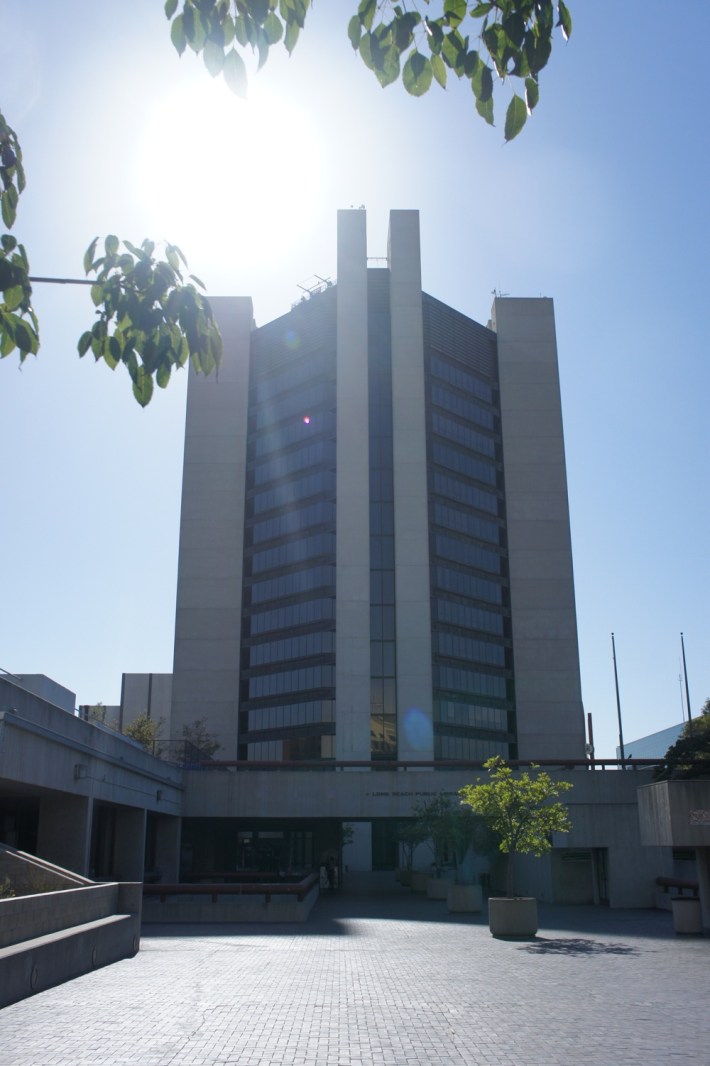 Presenters Alan Pullman of Studio One Eleven and moderator Rick D'Amato seemed overwhelming praising of--and far more importantly, less critical of--Gibb's architectural monument, offering comparisons to and influences ranging from Le Courbusier and Louis Kahn. While I understand and appreciate the historical connectives that tie the timeline of architecture's history together, to show the Unité d'Habitation--Le Courbusier being whimsical before every sense of whimsy was ripped from it for Brutalist architecture to engage itself--and the Salk Institute--Kahn's beautifully symmetrical buildings that are clean modernism at its finest--in pairing with Gibbs's Civic Center seemed cheap; not on an historical-etymological level, but on a level which was supposed to be addressing the key question.
After all, we're talking about the possibilities of a space--keyword--which is supposed to engage citizens--and engagement cannot be enacted through cold, monotonous spaces. Brutalist (or, if you're kind, what some would call Late Modern) architecture, particularly Gibbs's Civic Center, does anything but engage: it is deeply uninviting, with a singular monument dedicated to power standing tall, while the low level gardens--some odd attempt to present a contrast--sit on the rooftops of the encased spaces below.
If one has ever wondered why critics call Brutalist style totalitarian, one but has to walk through Long Beach's Civic Center. It is continually empty save for the homeless who stay in Lincoln Park since, ironically, no one visits the Civic Center. And once the sun sets and the wind tunnels via the endless slabs of concrete surrounding City Hall kick up, the place is cold both metaphorically and literally.
While I am not sure if it was Gibbs's presence and therefore a lack of confidence amongst some to question a great architect's choice or whether it was Lowenthal's projections that renovating the Center would be in the $78 million range while replacing it would be in the $150 million, it remained entirely clear that no one was willing to discuss the possibility of something entirely new. It seemed, within the realms of this interaction, Gibbs's monument was here to stay.
Structural engineer Ken O'Dell made his point succinctly about keeping the integrity of the building when he stated, "In making your case [with regards to what to do with the space], you must emphasize that value of what is here doesn't stop with what you see. The value of what you have here is the historical context: you have where it was and you can see where it can go. And structurally speaking, there is no reason why you can't move forward with something from the past."
With regards to this emphasis on keeping architectural history alive, I was perturbed, for one, that no one on the panel, at least from my knowledge, had engaged in projects like the renovation they were pushing forward. Pullman did show the recently renovated Oakland Museum, designed by architecture Kevin Roche and whose style was eerily similar to that of Gibbs's rooftop gardens, to show how an update can be beneficial without having to tear down an entire structure. So why didn't we have someone from Mark Cavagnero's design firm? Or someone perhaps more local who has done a similar project?
Furthermore, it seems a bit counterintuitive, at least on a discussion level, to vacate the idea of replacing the space entirely due to cost. Or in other words, why no one presented the idea of funding an entirely new civic center--one driven to engage its space and not renovate one which lacks civic space on almost every level--via a public/private partnerhsip such as the conference center and hotel in Bremerton, Washington. And given the fact that, up one block from the Civic Center, is the new Long Beach Court Building which is being constructed under a public/private partnership, one couldn't help but feel slightly let down.
I know this is, after all, just a discussion--and that is why I am slightly more critical. If we're just discussing, why aren't we discussing everything?
And to counter my own point, I am not saying to destroy the thing either. There is merit to keeping a structure that we created to replace a previous one. Tabula rosa urbanism is not always the answer. But there is also merit to being frank.
The next discussion in the series will address the Pine/Ocean intersection and will take place on Wednesday, October 24, at 7PM at the Ocean Theatre. Tickets, set at $5 each, are currently available by visiting www.aialb-sb.org/events.
Stay in touch
Sign up for our free newsletter