Metro
Los Angeles and the Case for Transit Oriented Development: TOD Since the Red Line
12:00 PM PDT on May 24, 2012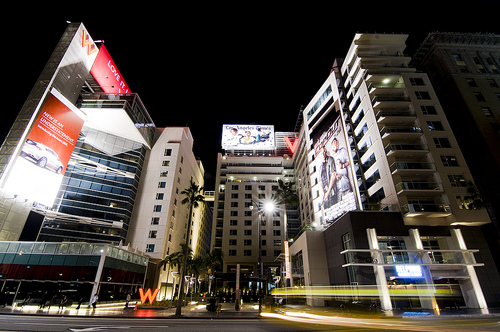 This is the second  in a three-part series on Transit Oriented Development and Los Angeles by Joel Epstein. Yesterday's piece was an introduction and a look at Metro's role.  Today, Epstein looks at the history of TOD on the Red Line.  Tomorrow, he examines what L.A. has to do to embrace true Transit Oriented Development.  You don't have to read the pieces in order, but it makes for a more complete view.
Since the construction of the Red Line, Metro can point to the completion of eleven significant developments. These include signature projects at Hollywood & Highland, Hollywood & Vine and Hollywood & Western along the Red Line; Western & Wilshire and Wilshire & Vermont along the Purple Line and Del Mar along the Gold Line. Elsewhere, Metro and its developer partners have three TODs under construction — Phase A of an affordable housing and mixed use TOD at the Westlake/MacArthur Park subway station, One Santa Fe, where construction began in January, and Taylor Yards.
Looking at the region overall, Metro's Calvin Hollis explains that Metro has enough lines now that companies developing TODs, already see the value of transit. He believes that as we mature further as a transit-friendly region, we will see more people riding buses and trains. Cars become less essential as the city urbanizes, more local services arrive, and people realize they have an alternative to driving. The daily opening of restaurants, markets and other services in downtown L.A. as the area morphs into a more residential neighborhood is a case in point.
A look at some of the TODs built, or being built on Metro-owned land, demonstrates the different approaches the agency has taken to development along its subway and light rail lines.
Del Mar Station — At the Del Mar Gold Line station in Pasadena, Metro's developer partner has built 347 apartments with 11,000 square feet of ground floor retail around a public plaza.
Hollywood & Vine Apartments — Completed in 2009, the Hollywood & Vine Red Line station apartment project is a mixed-use development featuring 375 apartments, and 28,000 square feet of ground floor retail.
Hollywood & Vine W Hotel & Condos — Another partially Metro-owned site at the Hollywood & Vine station hosts a mixed-use TOD that includes a 300 room W Hotel, 143 condominiums, 30,00 square feet of ground floor retail, redesigned plaza and subway entrance.
Westlake/MacArthur Park — At the busy Red/Purple Line Station, Metro is improving the plaza and subway entrance and building 170 affordable apartments, 38,000 square feet of retail space and transit parking on two Metro-owned parcels.
Wilshire/Western — Completed in 2009, Metro has built a 195 unit condominium tower with 49,500 square feet of retail space above the current terminus of the Purple Line station.
Wilshire/Vermont — Metro's Wilshire/Vermont development above the Metro Red and Purple Line station includes 449 apartments and 35,000 square feet of ground floor retail around a lively public plaza.
Metro is in negotiations on 14 projects and is considering another 15 TODs including one along the Orange Line Busway in the San Fernando Valley, and one at the current bus depot at Wilshire and Shatto Place. This Koreatown site's proximity to the Red and Purple Line station a block away at Vermont and Wilshire should make the site a natural opportunity for Metro. Property fronting on Wilshire with TOD potential is too valuable to remain only a bus depot.
The Measure R-funded Gold Line Foothill Extension has also helped stimulate interest in TOD and public transit in the San Gabriel Valley. The communities of Azuza, Claremont, Duarte and Monrovia are among a number of foothill cities planning residential developments along the route to be taken by the Gold Line.
Interest in TOD has even moved beyond the subway and light rail lines to some of the distant L.A. suburbs traditionally associated with the car. In Claremont, Santa Clarita and Fullerton planners and developers are working on developments that will put residents as close to the Metrolink commuter rail, partially supported by Metro, as possible. This trend reflects the critical evolution that is taking place in greater L.A.'s thinking about development in the post-sprawl era. This recognition of the need for new residential models may help staunch the building of new subdivisions further up into the foothills of the San Gabriel Mountains.
Back in L.A. proper and the Westside cities, Metro's newest rail project, the Expo Line, is expected to stimulate a good deal of private transit-oriented development. The recent sale for $11.25 million of the property at the northwest corner of Colorado Avenue and Lincoln Boulevard in Santa Monica, to an infill mixed-use developer, speaks to both the appeal of Santa Monica and the arrival of the Expo Line, which will run down the middle of Colorado. While Metro was not directly involved in the deal for a parcel assessed at under $1.5 million, the agency's soon-to-arrive light rail line played an important role in the pricing of the deal.
The anticipated interest in TOD along Expo in Santa Monica and Culver City, and to a lesser extent in Mid-City and Exposition Park, also underscores an economic reality of the region.  Developers build TOD and other types of projects where and when they can turn a profit on the deal. The perennially golden Santa Monica real estate market demonstrates this economic reality. Speaking of the Colorado and Lincoln property following the sale, the buyer told the L.A. Times, "To us, this is the gateway to downtown… We want this to be very pedestrian friendly, heavy retail orientation with some really strong design elements."
One of the people at the center of all of this development activity is Roger Moliere, Metro's Chief of Real Property & New Business Development. When I met with him a couple of months ago, my goal was to learn about the agency's perspective on opportunities to help make L.A. more transit-oriented.
Moliere has been with Metro for five years. He previously spent many years developing properties in Marina del Rey. The veteran real estate lawyer and developer is proud of the fact that the agency is performing better than the market, which is just now starting to recover from the most recent real estate bubble and financial crisis.
Discussing the toll the economic downturn has had on large real estate projects, Moliere explains, "Before the economy tanked, North Hollywood and Universal TODs were ready to go. Still, Metro has projects under construction at MacArthur Park, and is starting on One Santa Fe and Taylor Yards." He adds, "The current product is rental apartments. We wont see much commercial development for a while and the need is for housing."
On all of the developments in which Metro is involved, the agency is the landlord in the sense that it owns the property on which the project is built. In real estate jargon, all of Metro's TODs are ground lease projects done through a public private partnership (P3) joint development agreement. Under the terms of these agreements, the developer pays for the project's construction, management of the property and related costs associated with building and operating the building.
For Roger Moliere, Metro's TODs must be built in a way that improves the area around the station while fitting in with the character of the neighborhood. A successful TOD is one that makes riding transit and shopping locally more attractive than driving to work and to the store. In drafting its joint development agreements Metro seeks to write them in a way that ensures the competing expectations of area residents, business owners and elected officials are addressed.
Moliere is upbeat about the agency's future TOD opportunities. Of course, like any developer Metro faces often challenging planning, environmental, financing and building code issues on all of its projects. For example, Metro, like any private developer, is constrained by what some view as the burdensome parking requirements of some County cities. Parking standards that might make sense in a suburban development far away from transit don't, the critics say, make sense in parts of L.A. well served by rail and bus. According to Moliere, building surface parking in L.A. costs a developer on average $25,000 per space.  For underground parking the cost is $45,000 per space. He feels these requirements and the cost put off some potential partners and should be changed. He is not alone.
Another challenge to expanded transit-oriented development along recently constructed rail lines is that the building of these lines was delegated to construction authorities. As Metro's Calvin Hollis put it, "With construction authorities we [Metro] lost control of the bigger impact of those lines on the communities. The construction budget [and sometimes massive cost overrun] goes to building the line, and when they are done, they're gone. It is a different mindset. When we're done, our work is just beginning.  [When you give the project to a construction authority,] you lose that opportunity to take a longer term and broader look at the station area." This, and other problems with the construction authorities, may mean Metro bringing more transit construction projects in house in the future.
Joel Epstein is Chief Talent Officer for bliss lawyers, a new legal model combining the benefits of secondment and virtual law firms. Joel writes frequently on public transit and urban life.  
Stay in touch
Sign up for our free newsletter