Eastside
The Women of the Ovarian-Psycos Bicycle Brigade
4:51 PM PDT on March 19, 2012
(This is the second of a two-part series. To read the first part how the Ovarian Psycos started, click here.)
Whether they are charras on bikes like Ova Andrea Ramirez says they are, they work hard to make Ovarian-Psyco Bicycle Brigade work. Though the all-female Latina bicycle collective turned out mostly Latina, the group is open to inviting people into the core as long as they are willing to work, and step up when the time calls.
The following post features brief biographies on the current roster of the Ovarian-Psycos (a photo isn't provided for two members). The women chose to conceal their face not for fashions sake, Xela de la X says, but to signify that the group is not just about each of them as an individual, but it's about the collective. Wearing the paño, or bandana, conceals their identity, but it's also represents the forgotten female victims from war torn regions, and from those that disappear in Los Angeles, she adds.
(While they are not included in this post, past active members include Yolanda Posada, Mayra Aguilar, Monica Perez, Eyerie Zenzele and Elizabeth Piedra. Also, the Ovarian-Psyco's newest edition, Cinthia Garcia, was brought into the group yesterday.)
Photos courtesy of Maryann Aguirre, and shot by Rafael Cardenas (eastsiderwriter.com). 
Joss the Boss
Jocelyn Hernandez was one of the original core members that rode on the first Luna Ride in July 2010. At the time, she was the most experienced with bicycle mechanics, so she was often the one doing minor repairs on cyclists bikes. While Hernandez stayed loyal to the group through the first year, she says she really fell in love with the Ovarians at the  ceremony in City Terrace for the Aztec goddess Coyolxauhqui. The ceremony, during which many women shared their stories about domestic violence, touched Hernandez and brought her closer to the Ovas. As her first real relationship with women, it also helped build connections to her mother and sister, whom she says she really never connected with. After wrapping up her first season this winter as one half of the left and right ovaries, or group leader, she feels that she has also gained a voice to express herself.
"Really woudnt' use it before, or didn't think about using it before," Hernandez says. "It does sound a little stronger, not as shy."
Xela del la X
Xela del la X, 33, won't admit her maiden name, ("de la X" is like Malcolm X with Mexican twist she says), but her role as spiritual mother figure and mentor is shared by every member of the group. Xela founded the Ova's in July 2010 after being discontented by the oversaturation of men in bike groups.  Even though the Ovas have added new members in the past year, many of the members still look to her for guidance. "She's had my back when nobody else did," Ova Magally Miranda says. When people disagree with the Ova sticker logo "Ovaries so big we don't need no fucking balls," Xela explains that the saying is reframing how courage is connected to a man's "balls." "We don't need balls to show that fearlessness," she says.
Xela also raps under the name Cihuatl Ce, which she identifies as urban indigenous political hip hop.
GLoTography
Almost all the photos on ovarianpsycos.com were taken by 23-year-old Gloria Vasquez. As she grew up in East LA near Atlantic and Whittier Boulevards, she's been riding her bike for the past five years because, other than the bus, it was her only form of transportation. "I hated waiting for the bus," Vasquez says.  Before, many men would be surprised that she could keep pace in group rides because she was a girl. Even though she felt men looked at her riding as an oddity, she didn't feel she needed to prove anything to be able to ride. "I'm going to keep being the way I am," she says.
After joining the Ovas last year, the group's outreach work has helped Vasquez to come out of her shell., she says. Though she is still slow to interact with the new riders that join on the Ova's rides, practicing outreach more frequently has made it a little easier to approach people, she adds.
Ashes
Elvira Arvizo grew up in Monterey Park and East Los Angeles, and she volunteers at Proyecto Jardin in Boyle Heights. When she started riding consistently about one year ago, Arvizo would even ride on the wrong side of the street. While many of the women have larger than life energy, Arvizo is one of the quietest of the group. Even so, she recently wrapped up her time as one half of the left and right ovary, or the seasonal leader of the group. "I've always been shy," she says. "Being an Ova helped me be more vocal, and speak my mind."
Natalie Fraire
Natalie Fraire grew up in Huntington Park, and is a history undergraduate student at California State University, Los Angeles. Fraire started cycling three years ago, but joined the Ovarian-Psycos last year. Fraire recalls her favorite ride in January was when the group was lost and kept returning to Circle Street. Riding toward the back she says, "You could hear a bunch of women howling."
La Fingers
Maryann Aguirre was given the nickname "La Fingers" because she would always be flipping off the camera in Ova photos. Orginally from Boyle Heights, she is a board member at Corazon del Pueblo on First Street, and joined the Ovas in June 2011. She has taken on responsibilities for media outreach, and has become often times a spokesperson for the group. After not having a strong relationship with her mother, father and older sister, she says that the Ovarian-Pyscos, along with Fraire who she knew prior to the group, have been a type of family that have supported her in even her hardest of times. A single mother, the Ovas even helped her while she seperated from her child's father. "Being around the ladies, made me feel like a much stronger woman." Aguirre says.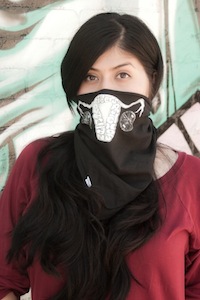 Drifter
Elizabeth Medina was born and raised in Boyle Heights. Like many of the other Ovas, Medina grew up with two brothers, and only one female friend until high school. She was always more drawn to friendship with boys, because of their humor, the dirty jokes, and the way they made fun of each other. Yet the boys she was friends that saw her during school would abandon her when school let out. When she joined the Ovas, she found a happy medium between her two sides: finding women with the roughness of her male friends, yet still being true to their femininity. "We wear lipstick but we don't hesitate to down some brews and throw down when we have to." Medina says. "Yes we are feminists, no we do not hate men."
La Blackbird
Andrea Ramirez, 24, joined the Ovas for the first Luna ride, which she says the girls call "The Luna Death Ride." She was one of the three girls that helped Ova Xela de la X off the route and into the ambulance, and then walk back with the group to the end point. "To see girls walking with bikes, it's kind of funny." Though many girls were scared to ride with the Ovas after the accident, she came back, and has helped the group since.Ramirez has been riding on and off for five years Ramirez, an artist that often does silk screen workshops at Boyle Height's Self Help Graphics and Arts, has helped Ovas design and create signature images, like the capes they wore for the 2011 May Day march, and many of the images from the first spoke cards
Her favorite ride she says was a route from Pasadena to downtown: "We took these really dark lonely streets through Pasadena. A lot of trees, and mostly going downhill. All you can see is the little lights and girls on bikes."
Maga (picture not provided)
Magally "Maga" Miranda grew up on the border of East LA and Boyle Heights, and she says she could never really tell the difference between the two. Growing up, she says, they were all the same to her.
Miranda started to ride  to get to school and work, but only last summer is when she joined the Ovas. Miranda's family was mainly made up of men she says, and her friends were usually guys as well. Interacting with men, she also developed talking back, and always feeling un  "I can have a big attitude problem," she says because of her bluntness "I completely changed, learning how to interact and organize with women."
Sunhands
Twenty-year-old Maryann Urdiales may be one of the youngest and most energetic Ova, but she has twice had to rediscover her personal spark. Constantly moving and changing schools until high school, and her father and mother often ending up prison, she says she never had someone to open up to in her youth. And right after high school, Uridales didn't go to college directly and started working. Her job constantly made her bite her lip, she says, and made her lose the ability to voice her opinions.
When she discovered the Ovas, Urdiales started volunteering with the group every chance she got. Since she was invited into the Ova core, she has helped with rides, but more recently has been helping facilitate a possible space for the Ovas at Proyecto Jardin.
The list of important people in her life start with the Ovas, she says. When her grandmother died in March 2011, she called the girls for comfort, and the group took her out to ride the Los Angeles riverbed. "When you feel everyone has given up on you, you feel(the Ova's) believe in whatever you are trying to do," Urdiales says.
Stay in touch
Sign up for our free newsletter