Election 2013
A Conversation on the Built Environment with Wendy Greuel
10:01 AM PDT on March 13, 2012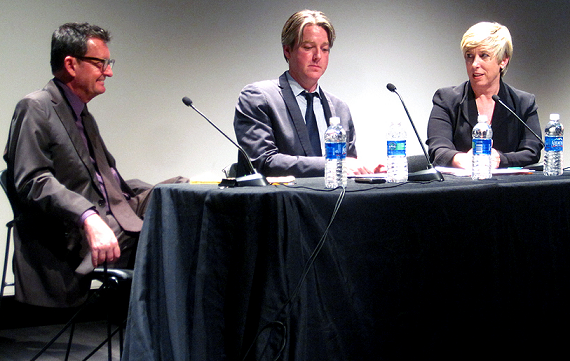 The fourth event in the AIA's mayoral candidate series with Wendy Greuel began with a 25 minute delay. Greuel was ensnarled in the city's notorious traffic on her way from a previous engagement on the westside.  It was an apt precursor to the engaging conversation that followed. The former councilwoman, Dreamworks executive and current city controller proved that she is no stranger to issues of urban planning, transportation, and architecture as she fielded questions on the future of L.A's built environment, mobility challenges and architectural aspirations.
Greuel agreed with the moderators' opening assertion that Los Angeles is at a crossroads with regards to its form and function. "Planning in Los Angeles is seen as an oxymoron" Greuel replied to laughter and applause. "People think that L.A is different. What's different is that we never plan for the future. Our planning code hasn't been updated since 1946."
The candidate went on to stress the importance of not only updating the city's outdated planning codes, but of also making zoning rules less ambiguous to residents and developers alike, alluding to themes of education and community engagement that would be referenced throughout the evening.
When asked about the recently released Hollywood community plan Greuel shied away from taking an official stance citing her lack of information on specific elements. She did however seem to support for the community plan process.
Greuel was at her best when discussing issues of transportation and mobility.
"Let's look at all modes of transportation including public transit, biking and walking" she said describing her approach to mobility. "There is value to living outside of the car, a quality of life value." said the candidate who chose her home in Studio City partially due to its proximity to amenities accessible on foot include parks and shopping.
She is a strong supporter of Measure R, but stressed the importance of spending those monies properly. "We have to ensure that we use Measure R funds the right way to build confidence from taxpayers" Greuel said referencing parallels to her current responsibilities as city controller. While discussing L.A's growing transportation network, she expressed support for supervisor Mark Ridley Thomas' efforts to include an underground station at Leimert Park on the forthcoming Crenshaw Line and commented on the need for walkable communities adjacent to transit stations. "Transit oriented development is here to stay" said the former councilwoman.
Greuel returned to previous themes of education and engagement when discussing the controversial issue of planning density around transit. "We have to engage, involve and educate" she said of community outreach. "We can't force it on people because it's good for them like medicine."
The former councilwoman was also supportive of events like Ciclavia. When asked by a member of the audience later in the evening if Ciclavia should be held each Sunday, Greul agreed that she would like to see it happen more often, but stopped short of advocating a weekly event.
On the subject of architecture, Greuel proposed adding a deputy mayor of architecture to in her administration, an idea also floated by fellow candidate Jan Perry during her conversation with the AIA on February 17th. She agreed with Christopher Hawthorne's assertion that L.A's best architecture is largely private, but cited recent civic structures such as the new LAPD headquarters where the AIA events are held, as indicative of the city's movement toward more engaging public architecture.
Asked about Farmers Field, Greuel seemed cautiously supportive. Although not directly involved with project negotiations, she indicated that it was moving in a "positive direction", but expressed her desire that the final project be complementary to the current convention center and that it both embrace and expand upon existing public transit infrastructure nearby.
With regards to the dissolution of the CRA, that candidate stated that she did not support the decision, but maintains that it was not in the best interest of the city of L.A to serve as its successor.
The final AIA candidate discussion takes place Friday, March 16 (7pm – 9pm) – with Eric Garcetti
Stay in touch
Sign up for our free newsletter