Air Quality
Q&A with Producer from 'Up in the Air' Report on Boyle Heights Air Quality (Part 1)
8:36 AM PST on March 8, 2012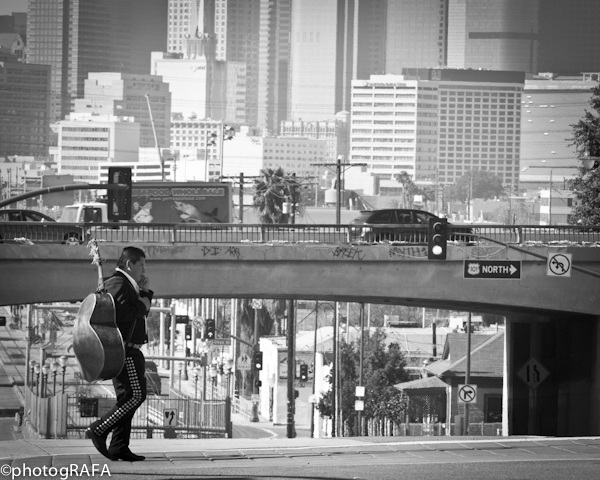 (Part II coming tomorrow...)
Being surrounded by three major freeways in Los Angeles, and residences living practically next door to industry, it's pretty obvious Boyle Heights is not the best place to breathe. A couple weeks ago, KCET's SoCal Connected aired a story about the air quality in Boyle Heights, showing how closely residents, especially children, live to polluters and what the community is doing to fix the current state of air in the neighborhood.
Associate Producer Rocio Zamora talked with Eastside Streetsblog this week to elaborate on the story. There was so much we needed to break it into two parts, so the second part will be published tomorrow. In this first part, Zamora talked about how the story changed her perspective not just as a reporter, but also as a Boyle Heights resident.
(ANNOUNCEMENT: The Clean Air Boyle Heights Campaign will be having a meeting today, March 8 from 5:30-7pm at the Mendez Learning Center. Look to the bottom of the story to download flyers for the event.)
Can you briefly explain what your story was about?
Our story was just basically focusing on air quality in Boyle Heights. I think Boyle Heights is one of those communities where you kind of get hit from by all sides. Boyle Heights, being next door to Vernon, which is very industry heavy, they're also right near commerce, we having the rail yards, we have the alameda corridor now is kind of near us, and then we have all the smog coming in from the ports, and not to mention we are cut by every major freeway in LA, or most of them. I think Leonardo Vilchis, whose from Union de Vecinos, called it death by 1000 cuts, which is a good way of putting it.
What first attracted you to this story?
What first attracted me to the story was the freeways. (Boyle Heights is) just surrounded by freeways. It's one of the few neighborhoods that really, we looked at six schools aren't even 500 feet away from a freeway. Soto St. Elementary, the elementary I went to, there is a playground, there is a fence, and then there is a freeway. Really there is no barrier between the two.
I think what I learned from this story is that it's not just these big polluters like the freeways and the industry. It's these little shops, the little auto body repair shops.
I've been living here for over 20 years; I never noticed the auto body shops. I never noticed that there was a lot of them near my house. And when we were doing this story, my producer said, Rocio your house is pretty much exhibit A. You turn around 10 feet this way there is an auto body repair shop, 20 feet the other way there's a tire shop. So like, it's all very small polluters, but when you put them all together, if there's like 20 of them in a very enclosed area, then that starts becoming the problem.
What surprised you about your findings?
There's two things that surprised me. This mom, Diana del Pozo-Mora, she's from mothers of East LA, and she started saying that teachers started noticing kids having nosebleeds. And I noticed kids having nosebleeds when I grew up but I didn't think it was anything out of the ordinary. I just thought, you know, once in a while kids would get a nosebleed and that was it. It wasn't like an epidemic. It wasn't like everyone in the class was bleeding, but I didn't think anything of it. But now what they're saying is that a lot of it is caused because of this tiny particulate matter, or just all the exhaust from traffic. Like I mentioned before, a lot of these schools are really close to freeways. We found 6 that were 500 feet away, but we found like 16 or 17 that were less than a 1000 feet way. So it's just like a really high number of these schools are very close to freeways. So that can cause the nosebleeds. Teachers started noticing that if they would open the door they would start noticing kids coughing or getting nosebleeds.
And the other thing that I didn't know about was the small particulate matter, which is what the "ground truthing" (measuring particulate matter) was doing. So you have ELACC, USC, Union de Veciones, a lot of these orgs were doing ground truthing, and research. And that's where community members would come up with machines and they would just measure small particulate matter, which is supposed to be the most damaging to one's health.
Did it seem like the residents that were ground truthing understood the work they were doing?
The ground truthing, they school them. They teach them how to use the machine; they kind of assess them to what particulate matter is. And so the people are very aware. And I think that's one of the good things about the Clean Up Green Up program is that they are very much getting the community involved. And it's not just them going and mindlessly pressing a button. It's like they really know and care about what's going on.
One of the researchers we spoke to, Manuel Pastor, was saying that that was probably one of the biggest steps. That not only are you teaching the community what's going on, because a lot of people didn't know, but you're also making them care, because they live here. People can study Boyle Heights from outside, but if the people that are living in Boyle Heights don't care, then very little can be done. I think that a lot of these orgs are helping mobilize the community and helping them become aware, which I think was one of the biggest obstacles. A lot of people that we interviewed that were residents that have been living here as long as I have or longer didn't know that this was going on. And I think the same could be said for me for many years. I had no idea that it was that level of pollution in Boyle Heights.
video platformvideo managementvideo solutionsvideo player
--
Click on the following links to download flyers for the Clean Air Boyle Heights Campaign meeting today, March 8.
Here are links to some of the organizations involved in the Boyle Heights Air Quality Campaign.
Union de Vecinos
Mothers of East LA
Legacy LA
East Los Angeles Community Corporation -  (To learn more about the campaign, contact Jorge Villanueva)
Proyecto Pastoral
Stay in touch
Sign up for our free newsletter