2011: The Year That Was
8:29 AM PST on December 20, 2011
(Today begins our four-part end of the year coverage.  Tomorrow and Thursday will have our remaining Streetsie award announcements and Friday will feature some predictions for next year. - DN)
There was a lot of important news that broke over the last year.  It's hard to believe that a year ago the City of Los Angeles hadn't passed a Bicycle Plan and Metro hadn't approved a route for the Wilshire Bus Only Lanes.  Here are the 12 stories that made 2011 the year that it was:
January: Metro Announces New Round of Bus Service Cuts
Right off the bat, Metro set the tone for what would be one of the ongoing stories of the year by announcing another extensive round of bus service cuts.  Most transit advocates panned the cuts even as Metro tried to spin them as necesary.  The cuts were ultimately approved and went into effect later in the year.  Also, as a sort of preview of another major story, Dana Gabbard noted that Metro wasn't exactly meeting its own promises of providing information on all the service changes in the timeline it outlined.
February: Los Angeles' First Livable Corridor on South Figueroa?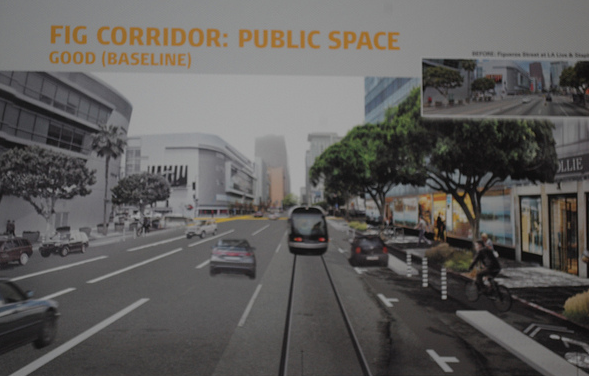 A team of international design experts joined some of L.A.'s top local planners to create a truly amazing series of design renderings for a  new South Figueroa Street.  While the designs are out of this world (or at least out of this city,) it's been almost a year since we've heard from the South Figueroa Corridor Project.  It's past time for an update from the city and the CRA who have been mum even when asked directly what's going on.
March - Villaraigosa Signs the Bike Plan
After years of public outreach and months of debate and back room maneuvering, the City of Los Angeles finally had a shiny new Bike Plan.  The late morning ceremony at City Hall drew a crowd of cyclists, many of whom took time off from work, to celebrate what was viewed by many as a watershed moment.  There is pretty intense debate over whether or not the LADOT is fulfilling its pledge to complete the plan, but at the same time there is near consensus that the city did more for bikes in 2011 than any year in memory.
April - CicLAvia II
For the second time, Los Angeles closed 7.5 miles of streets to cars and opened them to a variety of uses for everyone else.  But even as Rob Adams was answering the question, "What is CicLAvia" for Streetfilms, there was an undercurrent of dissatisfaction from the CicLAvians who didn't use two years to explore the city.  These concerns led to a small retooling of the event for the October CicLAvia, with a series of mini-grants given out to make the event more about games, open space, and the amazing City of Angels than about racing from one place to another on two wheels.
May - Metro and "Crenshaw Subway Coalition" Collide at Board Meeting
One of the most powerful Metro Board Meetings of the year occurred when Supervisor Mark Ridley-Thomas brought a motion to add a Leimert Park Station and full grade-separation for the Crenshaw Light Rail project to the Board.  Hundreds of South L.A. residents, many brought by Damien Goodmon's Crenshaw Subway Coalition, packed the room.  In the end, the Board rejected the grade-separation proposal and came up with a compromise on the Leimert Park Station proposal.  The Board approved, but didn't fund, the station so that any funds left over after the current route and stations were finished could go towards the new stop.  Needless to say, the advocates in attendance saw this proposal as "pandering" and not "compromise."
June - The Christine Dahab/K-Town Wednesdays Crash
Take a group of Midnight Ridazz at a late night/early morning regrouping and add an inattentive driver, throw in an ignorant cop and don't forget a mindless television reporter and you have a recipe for tragedy.  When Christine Dahab (allegedly) plowed into a group of Midnight Ridazz, it was only the first chapter in a tragedy that hasn't reached its conclusion.  The LAPD badly bungled the "investigation" blaming the people being carted off on stretchers and not the person who plowed into them, but fortunately the crash occured just within the border with Culver City so the debacle was more "sideshow" than anything else.  Streetsblog added to the story with an important story detailing how Culver City was aware the intersection of the crash was dangerous and poorly designed.  Weeks after the crash, funds to fix the intersection were approved by a county panel.  Dahab is currently awaiting trial on felony DUI.
July - Karma/Heaven
Despite months of warning and media hype, Carmageddon turned out to be a non-event.  Angelenos are apparently smart enough to know how to avoid going out for long car drives when a major freeway is closed.  Who knew?  Oh, right.  I did.
Meanwhile, Wolkfpack Hustle, Gary Kavanagh, Joe Anthony and Ezra Horne pedaled and flew to the rescue with the Jet Blue v Wolfpack Hustle (aka #flightvbike) race.  A Jet Blue promotion flew people from Burbank Airport to Long Beach Airport.  On one of the planes were Anthony and Horne were on one of those flights racing against a Midnight Ridazz themed race team known as Wolfpack Hustle.  The race went from Horne's house to the Long Beach light house  The flyers used taxis and airplanes, and never had a chance.  In the end, the Hustle beat the plane team so badly that a skateboard shop owner who pledged $10 to LACBC for every minute the Hustle beat the flyers had to sell his car to make good on his promise.
For our part, LA Streetsblog was the only website to offer live coverage of the race, thanks to a transponder placed on one of the Wolfpack's bicycle.  Our coverage of the race that day shattered every Streetsblog record for readers and page views.
August - ExpressPark Comes to Downtown Los Angeles
Finally, the City of Los Angeles seems serious about doing something about its parking problem.  By parking problem, I mean that there's too much cheap or free parking in a city that is somewhat famous for having more cars than it knows what to do with.  The city's first real stab at implementing the theories of Parking Rock Star and UCLA Planning Professor Donald Shoup was put into place.  The Express Park program creates variable parking rates at meters in Downtown Los Angeles.  Hopefully the program will prove as successful in Los Angeles as it did in San Francisco and can spread from the Downtown to the rest of the city.
September - Eli Broad Steps Into and Out Of Regional Connector Discussion
One of Streetsblog's major scoops for 2011 was publishing a letter, signed by billionaire Eli Broad, that proposed major changes to the Regional Connector.  Considered by transit experts to be the lynch pin of Metro's ambitious rail expansion program, even more important than the Westside Subway, completion of the line would boost connectivity by allowing for easy transfers between nearly all of Metro's planned and current rail projects.  If Broad, whose reach is considerable, had been succesful in his lobbying effort, it could have delayed the project for years, even if the ideas expressed in his letter made sense.  Metro politely rejected his changes and Broad has remained silent on Metro's transit plans.
October - Brown Vetoes "Give Me 3"
Governor Jerry Brown shocked the cycling world when he vetoed S.B. 910, which would have mandated a three foot passing cushion when drivers pass cyclists at speeds over 15 miles per hour was universally supported by Democrats in the Assembly and Senate.  Even worse than the veto was an incoherent veto message that was clearly heavily influenced by the unsafe driving advocacy group AAA or the comically mis-informed California Highway Patrol.  Some advocates are now calling an instance where a driver passes a cyclist at unsafe distance or speed a "Jerry Brown."
November - Green Bike Lanes Appear in Downtown Los Angeles and Boyle Heights
The Spring Street Green Buffered Bike Lane may be controversial today because of the poor condition of the green paint on the ground, but as recently as last month there was universal praise in the Livable Streets community for both the Spring Street lane and another green bike lane on Spring Street in Boyle Heights.  Joe Linton covered the lane announcements for Streetsblog and last week LADOT's Michelle Mowery explained why one bike lane is chipping and another one is thriving.
Ok, everyone who thought L.A. would have predicted last year that we would have two green bike lanes this year by now, raise your hand.  That's what I thought.
December - 
We've written five stories in six days about the F.T.A. report on Metro and Title VI Civil Rights Violations.  What do you think the story of the month is?
Stay in touch
Sign up for our free newsletter