SCAG
Regional Agencies Taking Slow Walk Towards Sustainable Funding
10:09 AM PST on November 9, 2011
In recent weeks, regional transportation agencies in Southern California have made some slow moves towards embracing a more sustainable transportation network throughout the Southland.  Local "Metropolitan Planning Organization" the Southern California Association of Governments (SCAG) is poised to pass a long term plan that would dramatically increase bicycle and pedestrian funding while its sister agency in San Diego passed the first regional funding plan complying with the state's ground breaking greenhouse gas emissions law SB 375 which mandates improvements in air quality with reductions in vehicles miles traveled.
Last week, SCAG's Joint Meeting of the Regional Council and Planning Committees met to vote on a proposed long-term plan for the SCAG region which covers Los Angeles, Orange, San Bernardino, Riverside, Ventura and Imperial counties, passed a measure that nearly tripled the regional investment in bicycle and pedestrian projects.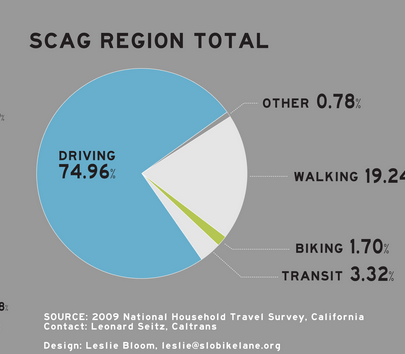 Over thirty people testified in favor of the proposal including representatives of the Safe Routes to Schools California, Los Angeles County Bicycle Coalition, National Resources Defense Council, and San Bernadino Council of Public Health.   At the Safe Routes to Schools blog site, Jessica Meaney lists some of the more powerful testimonies.
So bicycle and pedestrian planning is on the mark in Greater Los Angeles County.  That's the good news.  The bad news is the near-tripling of funding is less impressive when put in a larger framework.  SCAG updates its long-term plan every four years.  In 2008, it allocated less than half of one percent to bicycle and pedestrian funding.  This year's draft plan increases that percentage all the way to 1.3% of the future funds or about $6 billion of a $450 billion spending plan.
The Safe Routes to Schools California explains why even the higher number is alarmingly low:
And given that 21 percent of all trips are conducted via walking or biking (2009 National Household Travel Survey) and 25 percent of all roadway injuries and fatalities in this region affect bicyclist and pedestrians (2008 SWITRS data), we continue to urge SCAG's Regional Council to invest a significant percentage of resources toward walkable and bikeable communities and neighborhoods.
But even alarmingly low is better than the status quo.  At NRDC's Switchboard, Amanda Eaken casts a positive light on this modest victory but still calls for a more equitable funding scheme:
We couldn't agree more. But is funding a paltry 1.3% enough to do that? We don't think so. Equity, safety and the environment demand more than that.

Fortunately, there's time to improve the plan. The next milestone is the December 1, 2011 vote of the full Regional Council to release the preferred alternative to the public for review.
Meanwhile, farther south the SANDAG (San Diego Area Governments) has already passed their $214 billion new 40 year plan.  It also increases bicycle and pedestrian funding, transit funding over current levels.  Perhaps most shockingly for a region more associated with sprawl than even Los Angeles, the SANDAG plan dedicates more money for transit expansion than either local road improvements or highway expansion.  Of course, looked at another way, it dedicates 55% to road and highway improvements, 36% to transit improvements, and a meager 1.4% for bicycle and pedestrian projects.
Much like the SCAG plan, the SANDAG plan received the mixed support of much of the local transportation reform community.  On one hand, the percentages for transit and people powered transportation are much lower than they should be for an area serious about reducing greenhouse gas emissions.  On the other hand, it's much better than previous plans which had less than half a percent for bicycle and pedestrian projects and much lower set-asides for transit expansion.
Modest improvements didn't stop advocates with the Green Party and Cleveland National Forest Foundation from blistering the plan.  Founder Duncan McFetridge.  "If this is a national and regional model, we're in bad shape," said McFetridge in a phone interview.  "We have a need, a tremendous need, for transit right now.  Today.  This proposal puts funding transit off into so far in to the future that many of us won't be around anymore."
McFetrdige isn't just complaining without offering a solution.  Transit San Diego, a campaign of the CNFF, are the authors of the 50/10 plan which envisions a fifty year transit investment being made in the next decade.  Meanwhile, advocates with groups such as Move San Diego and Walk San Diego have supported the improved plan while pushing for more equitable funding in future plans.
But while San Diego's plan is already passed, there's still time to work on improving the SCAG plan.  Eaken mentioned above that the plan won't be voted on until December 1.  If you want to get involved, Safe Routes to School California invites you to join the Safe Routes to School Southern California Network.  The Network conducts monthly regional meetings and talk about these very types of issues and engage our partners to help with these conversations.  If you'd like to join this network and get info on meetings email jessica@saferoutespartnership.org.  Move L.A. has a similar working group, and you can join the fun there by contacting Beth Steckler: sbsteckler@gmail.com.
Stay in touch
Sign up for our free newsletter