El Monte
Healthy El Monte, Not Just About Transportation But About Healthy Eating
10:03 AM PDT on October 20, 2011
El Monte faces some real health challenges including high rates of diabetes and asthma for its citizens combined with low rates of physical activity.  One of the reasons for El Monte's public health crisis is that the physical face of the city needs a major upgrade.  For example, El Monte is a city with 125,000 people, yet it lacks a supermarket so residents are forced to choose between hopping in the car to go to a store with healthy food choices or shop locally at whatever is available at smaller neighborhood convenience stores.  Despite El Monte's recognition that dense urban development leads to healthier communities, there is currently one mixed use development in the entire city, the relatively new Garvey Court.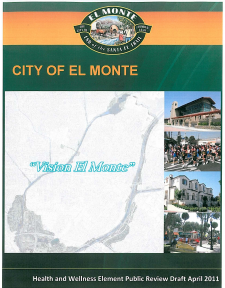 But El Monte wants to change all of that, and in 2008 it earned a Policies for Livable and Active Communities and Environment (PLACE) Grant from the Los Angeles County Department of Public Health to do just that.  While the centerpiece of El Monte's first steps towards livability is the Health and Wellness Element (aka Vision El Monte,) the city has also begun to change its physical face through the Arceo Walk and found ways to get people walking through its Walking Club and bicycling through special events such as September's Rails to Trails Healthy El Monte Community Bike Ride.
The Health and Wellness Element breaks down its goals and strategies into fourteen chapters and seventy seven strategies.  These chapters cover your standard Livable Streets concepts such as "Land Use and Community Designs," "Healthy Transportation Systems" improvements to bicycle and pedestrian networks and a robust safe routes to schools program.  Most Streetsblog readers are familiar with these topics and these strategies were discussed at length in the other chapters in our PLACE Series.
But it's not as though the city has been waiting for the plan to be finished to roll up its sleeves, or as El Monte's PLACE Coordinator, Arpine Shakhbadaryan, stated, "we didn't wait until year three to start improving the city."  For example, the city has aggressively pursued sidewalk improvements, especially around schools.   El Monte successfully earned over $600,000 in Safe Routes to Schools grants to improve sidewalks and intersections for this fiscal year, almost twice the $330,000 investment made by the PLACE Grant.
The first hint that El Monte's PLACE Program is different than the other community's we've covered can be found by looking at its PLACE Coordinator, compared to the ones hired in other cities.  Shakhbadaryan doesn't have a background as a bike advocate or urban planner, but is a public health professional.  Her enthusiasm for increasing the health and wellness of El Monte's citizens by creating new opportunities for residents to walk, bike and exercise outside has been discussed before.  But what makes El Monte different, from Culver City or Long Beach is that their plan has a different twist.  El Monte isn't satsified with encouraging its citizens to live better lives, it also wants them to eat better food.
There's a lot of ways that a city can help its citizens eat healthier foods.  One way is holding city-sponsored cooking classes.  Another way is to create communities that provide easy access to fresh, healthy and enjoyable food.
Access to healthy food is perhaps more critical to El Monte than other parts of the built environment.  To give you an idea of how great the opportunity for improvement in El Monte, one has to look at the Retail Food Environment Index for the city.  RFEI is a simple math equation dividing the number of unhealthy food options in an area by the number of healthy ones.  In California, the RFEI tends to run between 2.06 and 5.80.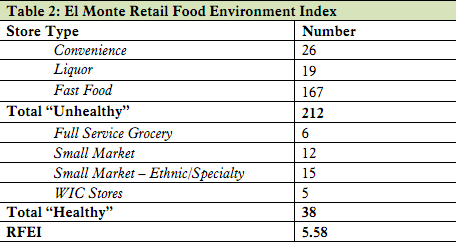 As one can see, El Monte is currently at the highest end of the the unhealthy spectrum.  Such a large disparity between unhealthy and healthy food alternatives is something the city wants to reverse.  "Residents should have access to what they need within a quarter mile of where they live," supplies Shakhbadaryan.  Today, that's not the case.  In the future it could be.
Goal HW-10 (on pages HW-34 and HW-35), focuses on nine ways that El Monte can create the healthy community it desires.  It envisions a place where new zoning enticements lure a large supermarket, where Farmers Markets spring up throughout the city and where healthy food options exist near schools instead of liquor stores and fast food restaurants.  The plan doesn't discuss banning fast food restaurants as has been tried in other places, but using zoning and developer incentives to bring healthier food options to the area.  It's not about keeping business out, but attracting different business to come in.
Simply put, as Council Woman Emily Ishigaki put it to the San Gabriel Valley Tribune, ""We want to be able to offer the family .... somewhere to stay in the community and enjoy a chicken dinner or a salmon dinner."
Again, El Monte didn't wait for a plan to be finished to start improving their city.  Starting in 2010, every Saturday between June and September the city hosts a Farmers Market in a public parking lot on Santa Anita Avenue, a short walk from Arceo Walk.
Walking Clubs, bicycle events, Arceo Walk, Farmers Markets, the Health and Wellness Element, these are great first steps for any city but there's a long way to go to get there.  Fortunately, El Monte's residents and leaders know there's real value in walking towards a more livable community.
Damien Newton wrote this story while participating in The California Endowment Health Journalism Fellowships, a program of USC's Annenberg School for Communication & Journalism.

Stay in touch
Sign up for our free newsletter