Bicycling
Public Health Student Stephanie Hopp: With a Growing Effort Toward Safe Routes to Schools, Why Not Safe Routes to Universities?
9:28 AM PDT on September 8, 2011
Stephanie Hopp is a fourth year student at Union College studying Biology, Environmental Science and Spanish. She is actively involved in biking, health, and environmental protection and plans to pursue a Masters in Public Health following her undergraduate education.   
With gas prices reaching nearly five dollars per gallon and university tuitions on the rise, getting to and around school seems to be the easiest way to make a college student go broke fast. Since I plan to pursue a Masters in Public Heath after this year, and an online public health program is not an option for me, I need to save where I can. As a college intern spending my summer conducting public health research at UCLA, I am left with little choice when it comes to my commute each day—either spend too much money on gas and parking, or find an alternative, such as biking, walking, or using public transportation.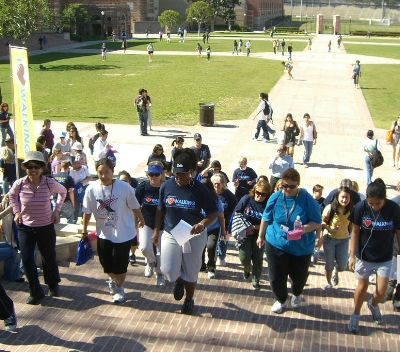 With Los Angeles' largely sprawled out development patterns, it is not feasible for me to walk places in a timely manner, and public transportation in my neighborhood is infrequent. The built environment of Los Angeles has made any mode of transportation other than utilizing one's own vehicle very difficult; most daily commuters are left with only one practical alternative: bicycling. So I began biking the 45-minute commute to work each day, happily saving money and getting daily exercise in a zero-emission fashion. Through my daily journey, I began to notice things I would have never otherwise perceived—the intense warmth of the Southern California summer, the aroma of freshly cut grass on nearby lawns I cycle past, and the many bike racks scattered throughout the city, which I never before knew existed.
While cycling on busy roads such as Sunset Boulevard and Beverly Glen is the fastest route to UCLA, it is far too dangerous with hundreds of cars speeding through each hour. Large potholes forced me to circumnavigate my way into traffic, and the lighting under bridges and overpasses was scarce, making me nearly invisible to rapidly approaching cars. While the road ought to be shared equally, without a designated area for cyclists, I felt as though I was intruding on the cars' road.
This summer, my friend, Debbie Schrimmer, an avid cyclist and student at the University of California Davis reminded me, "bicycling in itself is not inherently dangerous—it's when cyclists are forced to interact with cars that it becomes dangerous." So I searched to find more alternatives to avoid traffic. Luckily for me, side streets were easily accessible from my neighborhood that I am now able to get around the bustling boulevards and whizzing cars and make it to UCLA safely, with only a few "almost accidents".
But what about the countless other students in large cities who have jobs, internships, and attend classes, and who must commute on a daily basis? Those who do not have access to back roads or public transportation are left with only one choice–to use their cars. Stuck in their own "boxes" each day, each single-rider contributing to daily freeway traffic and air pollution, getting limited exercise, and spending preposterous amounts of money on gasoline. Being in a car for several hours each day robs people of precious time to exercise. Physical inactivity is associated with serious health problems such as coronary heart disease, obesity, and diabetes.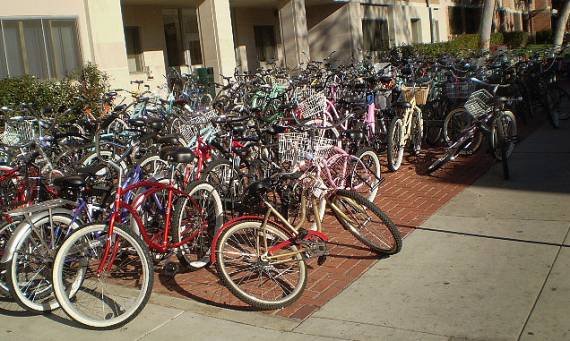 In the United States, Federal Programs such as Safe Routes to Schools are becoming more popular as the epidemic of childhood obesity is on the rise. This program helps to promote safe walking and biking to school for children, encouraging them to exercise on a daily basis, and in turn, enhancing their health. But what about university students? Why are programs like this not in place for young adults that also commute each day, and would enjoy cycling to class and throughout their local city or college town?
On university campuses, biking has many advantages. "Broke" college students can save money on gas, car maintenance, and parking, and experience a jolt of energy in the morning as coffee does without having to spend the money on caffeine and gym memberships. Cycling also creates a friendly campus atmosphere, and allows students to become more engaged in their communities instead of being isolated in their cars.
Walking and biking to school should be an important part of a healthy lifestyle, yet many college students are prevented from doing this in part because of barriers in our built environment. Cycling to university campuses can enhance health, reduce traffic congestion around campuses, and help build a greater sense of community. While barriers to biking to school, such as distance and traffic danger, remain and vary by community, these issues can be combated with enough effort. So why is it that those who are trying to do the right thing by exercising daily, lessening air pollution, and helping to relieve traffic congestion are not being rewarded? To get more people cycling, we need safer bike routes and enforced education to cyclists and drivers on proper road sharing protocol. Ultimately, to reform the way that people behave will require reworking the general attitude towards biking – that is, treating cycling as a viable and equal source of transportation and mobility, rather than merely recreation.
How we design our cities and campuses can be a major barrier to safe cycling. "Rather than squeezing in skinny bike lanes as an afterthought into a crowded road, we should be building segregated, off-street bike paths or sidewalks with designated lanes for pedestrians and cyclists," says Debbie. Many people use such paths in cities in the United States, like Minneapolis, and many countries in Northern Europe. With incredibly low injury rates recorded in these places, why can't we do the same for university campuses in the United States? The advantage of college towns and campuses is that they are often self-contained communities; everything is close by, which makes things easily accessible by bicycle. Yet, in order for more students to choose bikes over cars, we must invest in improving cycling infrastructure on our campuses and throughout our communities.
As the new school year is right around the corner, I would love to see an increase in cycling on university campuses and university authorities need to promote cycling and cycling education. Many students may not even realize the breadth of benefits they can gain get from cycling to and from class or throughout their college town. If they were made aware of bicycle management and safety beginning in their freshman year, as is the practice of UC Davis, we could see a significant increase in the number of cyclists on college campuses. As a college student, I have a lot to worry about between getting good grades, managing money, and keeping a good social connection amongst my peers. If simple educational classes on biking and accessible pathways for cyclists were implemented, finding enough time in the day to squeeze in exercise would be one less thing to worry about while jugging the busy life of a college student. I hope that many campuses help promote "Safe Routes to Universities" to enhance the health and well-being of students, communities, and our planet.
Stay in touch
Sign up for our free newsletter