Readers Interview Damien, Part 2: News and Views
9:04 AM PST on January 28, 2011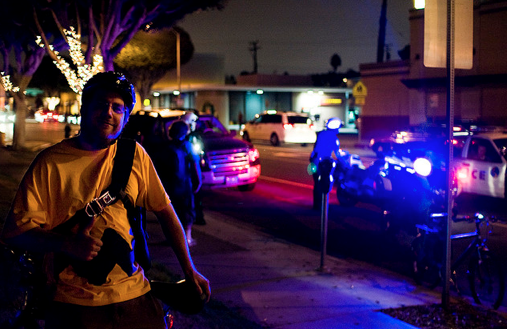 Yesterday, we conducted the first half of your interview with me.  Today, I'll do my best to answer questions about my views on the city, the Westside, and transportation in general.  A special thanks to Scott and Joe for giving me tough ones...
Scott Mercer: In your opinion, what are the most effective transportation projects going on right now in Los Angeles County? Not cheapest, but bang for the buck?
Bang for the buck?  Easy.  CicLAvia showed the city what our streets could be and showed the world that the stereotype that Steve Martin left for us in "L.A. Story."  Total cost to the city?  I think it was about $100,000.  As far as I know, no city has their closed street festivals mostly paid for by a non-profit, and the CicLAvia team really deserves the lion's share of the credit for raising those funds. Hard to top hundreds of thousands of people enjoying their streets for a total cost of less than a dollar per person.
Scott Mercer: Is the Purple Line extension more cost effective than new bike lanes, even though it costs about 1000 times more?
The Westside Subway Extension, if done properly and supported by intelligent and community-based planning and real Transit Oriented Development, could change everything in West L.A.  The way people move.  The way people live.  Everything.  It's hard to put a price tag on what's that worth.
That being said, a New York- or Portland-style build out of the bike network would be a lot cheaper and could impact the entire city.  There's almost nothing more cost-effective in terms of moving people and changing the urban environment than building bike infrastructure.
But, bikes won't work for everyone.  I think Los Angeles, even in a recession, can afford to both build out the bike system and complete the Westside Subway.
So which is more cost effective?  Probably building out the bike network.  But Los Angeles needs both a top tier transit system and a safe and functional bike system.  There's no reason we can't have both.
Scott Mercer: Are there are any low cost, high return ideas that are not getting any play right now, or not getting enough play, in your opinion?
Carlton Glub put together a good list of streets that should be studied for their own bus-only lanes.  I think Metro should prioritize trying to build out bus only lanes on a lot of major streets and roads.  Right now, there's not much talk outside of Wilshire and occasionally the San Fernando Road.  If we're serious about moving as many people on transit in a way that's both cost effective and time efficient, we should be looking in to more and more Bus Only projects.
Biking In L.A.: what changes you see for Los Angeles transportation over the next 10 years.
Why, in ten years we're going to have a fully built-out transit system, right?
I think we're going to see a lot of movement on the Bike Plan and a lot of streets that are about moving people, not cars.  LADOT's sudden interest in "Road Diets" is encouraging, even if their plans could use some tweaking.
But it's not just about bikes, buses and trains.  I think we're going to see a lot more street projects that aren't about flushing cars through a community.  That CRA project on Figueroa is the first step in a real livability movement.
Walk Bike Eagle Rock: What are you most glad to see change in transportation/livability for LA in the past three, four, or five years?
When I first started blogging here, the LACBC was going through a transition, CICLE wasn't doing advocacy, and all of the transit groups seemed to spend all their time fighting each other.  In the meantime, City Council Transportation Committee hearings were empty of public speakers.
Now, the movement is organized.  In addition to an LACBC that has a true county-wide reach, CICLE has been doing some great work in NELA and Bikeside is pushing the right buttons to move things along with more limited resources.  Our transit groups still don't like each other, but when they agree on something they work together.
In other words, our advocacy community has really grown.  We still don't have a super-group similar to Transportation Alternatives but I think we have enough activity going on to really help make things happen.
Joe Linton: Tell us a little about your westside neighborhood and what future you see for it. Somehow I, personally, can picture the denser neighborhoods like Koreatown (where I live) embracing a walkable bikeable transit-oriented Los Angeles… but I have less confidence that there will be an easy transition in the suburbs on the westside and the valley and Orange County and San Bernardino, etc. What trends do you see where you live? Where is there hope for your neighbors embracing the sort of future that Streetsblog embraces?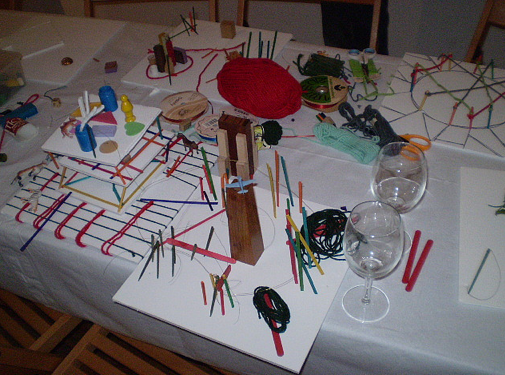 I was very aware of the reputation the Westside has before we moved here.  Marybeth and I picked the place we lived because we could cut down our car trips to basically one a week and whenever Sammy has to go to the doctor.  We walk to the store, to Church, to the park, to restaurants, and bike everywhere else.  When he's old enough, Sammy will ride the bucket bike to pre-school and walk to elementary and middle school.
It's really easy to get around my neighborhood and get what we need sans car.
That being said, I know people that live within a couple of houses of me that drive to all these places.  That being said, the kids are a different story.  Every teenager I know has a bike.  They all ride.  True, some of them want/will get cars soon, but they know how to get around on a bike and by and large like it.
When I think about it, these kids' parents grew up in an age when environmentalism was just starting to catch on, and their parents were most likely resistant to changing their lifestyle to save the planet.  Now the children of the 70's have solar panels, carry their groceries around in cloth bags, recycle without a second thought and drive hybrids.
So what are their kids going to be doing?  I'm hoping they'll be driving less, and biking/taking transit/walking more.  Hopefully the change will come somewhat organically.
Personally, I think you're right that the more urban areas will have an easier time becoming more urban than the less urban areas, but you can't underestimate the impact that Expo and the Westside Subway will have on changing the way people think and live.  The sooner we get those lines built the better.  If the Westside Subway had been built 20 years ago, I don't think we would be asking some of these questions about the Westside today.
Stay in touch
Sign up for our free newsletter