Interview
Streetsblog Interview: Ayla Stern
8:08 AM PST on November 18, 2010
Bicycle Advisory Committee Member.  Bike Working Group volunteer.  Midnight Rida.  Co-Founder of the Valley Bikery.  When it comes to advocacy Ayla Stern does it all.  Recently, she's been one of the leaders of the battle to preserve the Wilbur Avenue Road Diet and Bike Lane re-striping that has won praise from cyclists and residents but scorn from the motoring public and the local City Councilman.
Recently, Streetsblog conducted an online interview with Stern to talk about biking and advocacy in The Valley.  Since we haven't covered many issues in that part of the city, outside of Wilbur Avenue, I learned a lot.  Read on, and you might soon.
Name: Ayla Stern
Where Do You Live: Sherman Oaks
Describe Your History of Advocacy: I started becoming a bicycle advocate as a result of the obstacles and dangers that I encountered daily while riding a bike around LA.  The lack of infrastructure and the aggressive drivers can be very frustrating, and I've found that the most effective way of dealing with that frustration is to work to get more infrastructure implemented.
I've also found that being a cyclist and/or being an advocate is nearly impossible without support from other cyclists and community organizations.  Change takes a long time, but organizations like the Bike Collectives, CICLE, LACBC, midnightridazz, BWG, streetsblog, etc. make cycling safer and more fun right now, while also creating a much stronger movement for change in the future.  Currently I am working as a member of the Valley Bikery, the UCLA Bicycle Coalition, and the BAC for Paul Krekorian's office to try to make the valley and LA more bike friendly.
You mentioned the Bikery.  They're somewhat new to the scene...what's it like working with a group that is creating a co-op without the benefit of a storefront?
Yes, the Bikery is still pretty new to the scene - we started out about a year and a half ago doing mobile bike clinics, and moved into a section of Valley Bicycles, a bike shop in Chatsworth, last August.  So we do have a "storefront" just it is not entirely ours, it's shared.  Also, we still do a lot of mobile clinics in different areas like North Hollywood, Encino, Northridge and Van Nuys because Chatsworth is just one corner of the valley.  I would say that not having our own storefront is a significant challenge - it is hard to carry equipment to mobile clinics, especially on a regular basis and especially when traveling by bicycle as many of our volunteers do.  Still, even if we had our own storefront I think we would continue to do mobile clinics because the valley is so huge that even if we were centrally located we would still want to provide services to a variety of areas.  The ultimate solution probably is for there to be lots of locally organized bike collectives in different parts of the valley, but that takes time, so until that happens we'll stay somewhat mobile. 
All of a sudden, the Valley is a hotbed of bike advocacy.  Is this the case of a lot of things just happening at once, or is this the case that I just started to notice...
I've heard that before but I never really thought of the valley as a hotbed of bike advocacy :)  I think there have been advocates pushing for more infrastructure in the valley for a while, and finally those requests are starting to get more acknowledgment, and sometimes even action, by city officials.  This probably is the result of a lot of factors - a growing cycling community in the valley, congestion, the economy causing many people to consider cycling, recent political pressure (within LA and from other cities) regarding the lack of livable streets, the success of the orange line bike path, luck, etc.
I think another factor is also that many of the bike lanes that have been put in lately have either gained momentum in reaction to the threat of them not being implemented (Reseda) or have immediately been threatened upon implementation (Wilbur).  This urgency drummed up a lot of support and noise that is not always present in other campaigns.  The belief that you need a car to get around is very widely held in the valley, and there is often backlash against anything that is perceived as taking away space for cars.  Because of this backlash, sometimes more advocacy is needed to achieve the same results as in another area.
At a recent hearing I was at for the Bike Plan, one commenter complained that nearly 50% of the bike projects for the next 5 years are in the Valley.  Is that going to provide any real connectivity, if it actually happens?
As for the comment that nearly 50% of the bike projects for the next 5 years are in the Valley, it's just not true (though I kind of wish it was!).  About 40% of people living in LA live in the valley, but we are not scheduled to get even 40% of the infrastructure in the first 5 years.  The number is closer to 30%, a significant chunk of which is labeled as a "pilot" (what does that mean?), or which is the Orange Line extension, a project by Metro that was in the works long before the planning dept released the drafts of the bike plan.
One of the main things we need right now though, more than numbers of miles of lanes, is for the lanes that are implemented to actually connect the various cities. The biggest issue, in my opinion, is that most of our bikeways are along the edges of the valley - there is a gaping hole in the middle of the valley where there are still no connecting routes.  The closest things we have to continuous, centrally located bikeways are the Orange Line bike path, which is further south and which is not really safe to ride at night, or the Woodley bike lane which almost goes all the way north/south but which has many large gaps.
The lanes that are planned for the first 5 years of the bike plan are all around the edges of the valley (Devonshire, Rinaldi, Riverside...).  The only street on the first 5 plan that is even close to the center of the valley and which traverses east to west is Roscoe, but that is labeled as a pilot and the street currently has peak hour lanes, so I'm not sure how much I can trust that we will actually end up with paint on the ground.  I believe a street like Sherman Way, which crosses the middle of the valley and is more pedestrian rather than industrially oriented, would be a better choice to be designated and prioritized for a bike lane.  Because the valley is so big (North Hollywood to West hills is more or less the same distance as Downtown LA to Venice) the number of miles of lanes required for an infrastructure system that actually connects and works is pretty high.  But the most important thing is that those miles actually connect through the center, not just on the outside. 
I know you were part of the team that went door to door to garner support for some of the new bike infrastructure.  What was people's response?  Would you recommend it to other advocates?
When we went door to door to talk to residents on Wilbur blvd I was surprised by how overwhelming the support was for the new road diet.  In walking from Wilbur and Nordhoff to Wilbur and Lassen I only met two people who were not 100% for the road diet.  Everyone else told us how much they loved it because it made their street safer, quieter, and calmer.  They loved the left-turn lanes and the crosswalks especially, and told us about how previously the street had been plagued by speeding, drag racing, and violent accidents that would leave cars flipped upside down in the street or crashed on their front lawn.
I would recommend this door-to-door strategy to other advocates, but just as a starting point - even after signatures have been collected residents need to stay involved.  It is really unfortunate but Councilman Smith and the Northridge West neighborhood council are currently ignoring the feedback of 99% of the residents on Wilbur and are actively trying to remove the road diet to restore an arrangement similar to the dangerous (and also congested) setup that was previously in place.  They are catering to constituents who mainly live north of Devonshire and use the street as a cut-through alternative to Reseda or Tampa.  Many of the stated concerns are also related to traffic from parents driving their kids to school.  However, if for no other reason, the fact that there are two schools on Wilbur should be enough of a reason to put in traffic calming measures, more crosswalks, and safe alternative routes to school like the bike lanes that were included in the road diet.  If parents don't want to sit in traffic before school (traffic which was also there before the road diet), they now also have the option to safely bike or walk with their kids to school.
Despite all of this, Wilbur is still being reviewed and debated by the city council office, LADOT, and the residents in the area, so if you would like to weigh in on the issue you may send an email to councilmember.smith@lacity.org.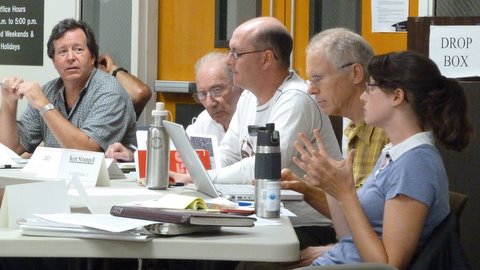 You recently were appointed to the BAC, as you mentioned above.  Any early impressions of the group, or ideas of the role it can play in making the city more bike-friendly?
I haven't yet met everyone, but my first impressions of the group are that the other members are very welcoming and that there is generally positive, constructive communication at meetings that allows for in-depth discussion of the various issues.  Most folks seem to be more or less on the same page when it comes to the general vision of livable streets and transportation options, though of course individual opinions differ when it comes to specific issues.
As far as its role in making the city more bike friendly, I would like to see the city council, LADOT, and Metro take the committee's recommendations more seriously.  I feel fortunate that my city council representative is very open minded about these issues, but I know that not all districts enjoy the same kind of support when it comes to bicycle transportation.  I would also like to see the committee take somewhat stronger positions when pushing for bike plan infrastructure.
Everyone gets the same last question...if you could change any one thing about transportation in Los Angeles, what would it be?
If I could change one thing about transportation in LA, I would make a train/bike grid across the whole city that would be accessible 24 hours a day to make the whole city easily accessible by transit/bicycles.  Trains could be above ground or below ground depending on what was most appropriate for each area, and would loosely follow freeway routes, allowing for faster connectivity on highly traveled routes.  To kick-off the process I would re-allocate the $1 billion that Metro is wasting widening the 405 to building the proposed subway that would allow you to travel from the East Valley to Westwood in 6 minutes.
The bike grid, which in an ideal world would be a 1 mile grid of streets with bikeways (mostly bike lanes), would connect with these train routes and would traverse every part of LA, solving those "last mile" and connectivity problems.  These bike lanes would not be placed in door zones, and would be implemented along with other traffic calming measures.  In choosing the placements of these routes, I would genuinely seek community input, and I would make sure that the staff designing the bike lanes were actually cyclists themselves. 
Stay in touch
Sign up for our free newsletter