Amir Sedadi
Rumor: It's Fisher v Sedadi for General Manager of LADOT
9:36 AM PDT on November 4, 2010
While advocates have been pushing for a national search to find a candidate to replace the departing Rita Robinson as new General Manager for the Los Angeles Department of Transportation, insiders in City Hall and the Caltrans Building are placing their bets on one of two LADOT Assistant General Managers.  In this corner, we have the LADOT's answer to Donald Shoup, Amir Sedadi.  In the far corner, in an immaculately pressed suit, we have John Fisher.
Rather than speculate on the accuracy of the Rumor Mill, let's focus on taking a quick look at the contenders.  Feel free to add more information, or opinions, in the comments section.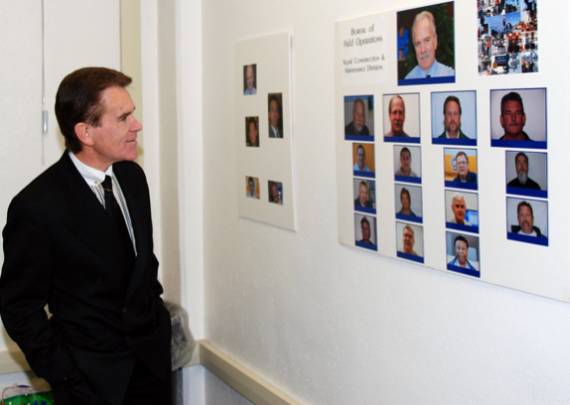 John Fisher:
John E. Fisher is the Assistant General Manager in charge of Transportation Operations.  A veteran of the Department since 1973, four years before I was born, Fisher has held his current position since 1999.  Fisher sits on plenty of national boards and other groups and holds a laundry list of transportation engineering degrees and certificates.  And, perhaps tellingly, his bio appears above Sedadi's on the LADOT "Senior Leadership Page."
Fisher was one of the first people at LADOT I got to know because he was front and center explaining and defending the Pico/Olympic capacity expansion program.  Since then, Fisher has been the spokesperson on a lot of proposals and plans that have been frowned on by Streetsbloggers such as the Speed Limit Increases in the Valley and crosswalk removals.  On the other hand, Fisher's team is credited with the Road Diet that appeared on Wilbur Avenue.
In a recent interview at The Atlantic, Fisher addressed the need to increase transportation options within cities:
We've looked at some of our streets and determined that some are mainly for through travel but others are for retail and pedestrian friendliness. We've looked at how to make the sidewalks wider, how we can provide more streetscape features such as decorative lighting, trees, and crosswalks.

With bicyclists, there are activists in many of the major cities demanding more facilities for bicycles, so we're looking at how we can restripe our streets to accommodate bicycle lanes.
Given Fisher's engineering background, and his competence working the city bureaucracy, if he's serious about creating better options for pedestrians and cyclists he could be a powerful General Manager for promoting transportation options.  Of course, that's a big "if."  Even then, we're not talking about making visionary changes as we're seeing in New York under Janette Sadik-Khan, but a mixture of competence and concern could go along way to improving the dismal state of L.A.'s sidewalks and bike facilities.
The topic of Fisher's role at LADOT erupted in the blogosphere last summer.  Ted Rogers at Biking In L.A. called Fisher "the man behind the curtain" at LADOT and laid many of the city's ills at his feet.  In response, Alex Thompson at Bikeside blasted back at Rogers that aiming barbs at Fisher is mis-firning.  This kind of drama over an Assistant General Manager is rare.  Imagine the headlines he could generate at the top spot.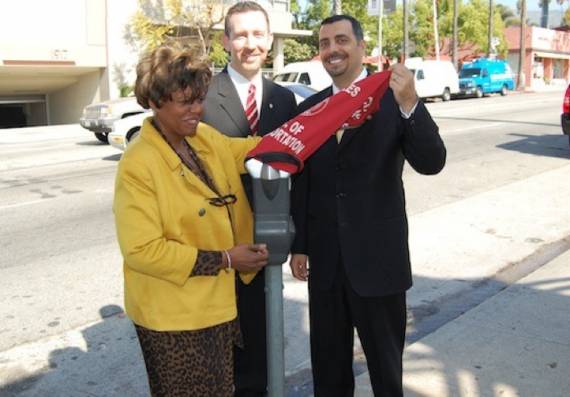 Amir Sedadi:
Amir Sedadi is the Assistant General Manager responsible for Parking Management and Regulations.  As such, he's been the city's point man defending the city's meter rate increases, explaining city policy on ticketing at broken meters and overseeing the "Smart Meter" program.
Naturally, this has led to Sedadi not being the most popular person in city government.  His comments about metered parking rates have drawn scorn from everyone from right-wing bloggers to the City Council itself.   That being said, Sedadi has weathered these storms without losing his cool during testimony.
But as we know, the issue of automobile parking reaches into a lot of other areas.  For example, Sedadi has also worked with ZipCar to expand car sharing to street parking spaces around the city.
While Sedadi's parking expertise would certainly be useful if the city decides to either privatize its street parking or attempt to price it correctly.  Sedadi has published two papers entitled "Best Parking Management Practices" and "Technologies in Parking" and is viewed as the expert on the issue in City Hall.
But Sedadi has been generating GM buzz for another reason. As reported in the Transit Coalition's weekly newsletter:
Sehadi is the heir apparent, having spent significant time at Robinson's side as she visited the Transportation Commission, the Transportation Committee, and the City Council.
This role, as Robinson's right hand man, has led to some Sedadi lowlights.  For example, he once testified that the city needed to tightly regulate the appearance of pedicab drivers because of the impression it would make should operators wear ugly Hawaiian shirts.
Each Assistant General Manager would bring a unique set of skills and experiences to the top chair.  Still, it's a dissapointment that the city isn't even considering some of the leaders in agencies around the country.  In the meantime, the suggestion of eliminating the LADOT and folding its operations into other departments is still floating out there as a longshot option.
Stay in touch
Sign up for our free newsletter