CicLAvia
Rediscovering Our City and Ourselves: Why CicLAvia Matters
8:27 AM PDT on October 13, 2010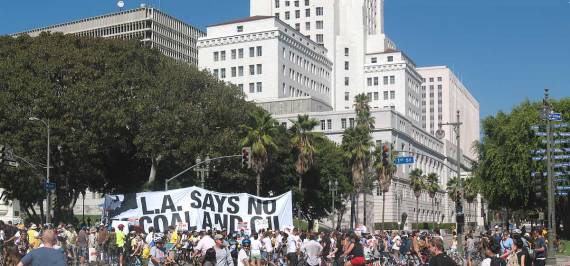 Mark Elliot is a photographer and urban planner (USC) who works with neighborhood organizations to build capacity in the land use arena. He's never happier than when riding canyons on a vintage Scapin or rolling the boulevards on a recommissioned Trek. Current project: bringing bike lanes to Santa Monica Boulevard.
Where were you this past Sunday? Did you take your trusty two-wheeler to the streets of Los Angeles for the first-ever CicLAvia? If so you witnessed diversity on the march as Angelenos of all kinds wrapped their bodies in spandex, leather, or leisure wear and piloted cruisers, fixies, low-riders, and hand-hewn rigs fashioned from junk frames. Many certainly never saw the inside of a retail bike shop.
Along nearly eight miles of public streets from East Hollywood to Boyle Heights, an ad-hoc people-power movement celebrated Œsocial integration¹ (as event organizers called it) as feel-good street party ­ a bonhomie and momentary civic solidarity that too often goes wanting in our public spaces. CicLAvia harkened back to an era when Downtown was the center of the world.  CicLAvia reminded us what it meant to be urban, and for an afternoon we embraced it.
But our region had long ago sidestepped that embrace. Today, most Angelenos can hardly conjure up an urban vision. In a steady march to the suburbs, we have turned our back on our shared urban past and willfully overlook its material remnants. Small businesses nibble at the edges of downtown recall a prosperous past, as do the empty shells of department stores that today are
used as Internet server farms.

As CicLAvia coursed through the concrete canyons of Downtown we glimpsed a relict Downtowns that was once a nexus of commerce and civic purpose. Long ago, big business worked diligently to establish Los Angeles as the American capital of the Pacific rim. Railroads linked farm to markets and our ports sent minerals and petroleum to Asia and beyond. East Coast industrialists set up shop in a big way by establishing branch plants to manufacture cars and car parts.
The rich tangible legacy of the most dynamic urban economy west of the Mississippi River lives on in Downtown. It's the region's urban history in a microcosm. CicLAvians saw the old motels on the west side of 7th Street ­ the city's main east-west thoroughfare before the 10 Freeway bypassed it. On the east end, acre after acre of low-rise industrial structures testify to the extent to which small manufacturers called Los Angeles area home. These old bones bookend what was once a glorious row of first-class department stores.
Downtown so thrived that horrible congestion was the bane of the Angeleno in the pre-depression era. Shoppers and workers crowded the streetcars that invariably converged at city center. Downtown also pulled wealth inward. As CicLAvians pedaled past the Jewelry center and Broadway's entertainment corridor, just blocks from the flower, fashion, and old bank districts, we were tangibly reminded of a decidedly urban past. Old theaters and loft buildings that line Broadway, Spring, and 7th streets bring the past into the present. The are the ghosts of past grandeur.
Then change came to Downtown. Suburban development sapped the city center of investment capital, the lifeblood of any city. Freeways circled Downtown to create an island on the land, leaving a ring of poverty just beyond. That was before Red Cars stopped bringing folks Downtown. Before Downtown got by on regular work as an extra on a TV crime show or as a backdrop for a car
commercial. CicLAvia shifted the consciousness by turning our attention to the faded jewel that is Los Angeles.
Wasn't CicLAvia all about bringing back the virtue of the public realm? For a day, we marched past City Hall literally to the beat of a different drum (providing a most motive beat!) as we rediscovered urban togetherness. The glorious, slow-motion parade that shimmied the 8-mile course from East Hollywood to Boyle Heights sprung the lock on our collective imagination. CicLAvians circled, looped, and otherwise ignored convention. Motorists who would think nothing of passing on the right or gunning the yellow could again feel how it was to be a kid on a bicycle. We were free to be our best selves as we felt the CicLAvia love. It sure felt like an inflection point, didn't it?
CicLAvia made a broader point, too, about  outmoded solutions to contemporary urban problems. More blacktop and increased throughput no longer addresses what ails us. Our dilemma is spiritual, too. While new state and federal policies like complete streets and mandated greenhouse gas reduction points the way, it will take individual and collective transformation to take us the last mile to energy independence, sustainable development, healthy local economies (take your pick).
CicLAvia showed that doing better is not rocket science but rather merely choosing to do things differently. Recognizing, for example, that people-powered transit is not only viable but enjoyable as an alternative for daily transport. That shopping locally instead of taking our dollars to the Costco is not only practical and efficient but feels better too.
For many CicLAvians, this is preaching to the choir. We already dream of streets that accommodate pedestrians, cyclists, the disabled and children, too. We spin the crank in our sleep. Our challenge is to get that message out, and CicLAvia has pointed the way.
Like all great cities, Los Angeles is more than the sum of its individual parts ­ it's a living breathing organism that pulses with human action and interaction. But often it is too diffused and decentralized. CicLAvia focused our attention back to the center. We can build on the effort by recognizing that our crown jewel only needs a polishing to shine again.  After all, we've made a considerable collective investment in the public space over the past century, and we're not making much more of it. It's our most precious resource. CicLAvia is a call to action to celebrate it.
What can we do? We must invest in the corridors and neighborhoods that once thrived. Today they are a threadbare legacy of a once-rich urban fabric. This is an urban problem that is extra-local in origin. It's economic and structural but it's addressable. We can start by shopping locally. Next we need to build on the foundation of regional nonprofits organized to bootstrap our urban economy. We should bring pedestrians, cyclists, motorists, and policymakers around innovative solutions that comport with our vision of a better city. We've seen examples elsewhere; let's make it happen here.
Again, CicLAvia points the way. On Sunday came alive in the city and in reciprocation Los Angeles again came alive around us too. Like the CicLAvia route, our path to a better, more sustainable urban future in our region will take some twists and turns but around each bend will appear a delightful reminder of why the journey is well worth taking.
Stay in touch
Sign up for our free newsletter