Profiles
Street Profile: Melissa Hebert of LAX Carshare
9:58 AM PDT on October 7, 2010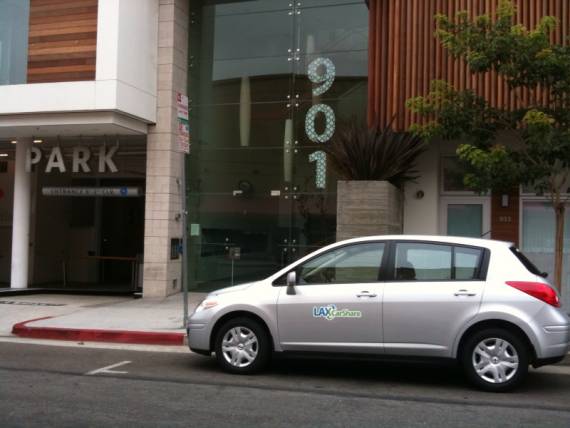 (Note: As requested by readers, expect a lot more of these profiles of the people that are making up the Livable Streets Community.)
Does Car Sharing reduce car dependency?  The question has been a hot topic among transportation reformers for years.  One of the first stories at San Francisco Streetsblog asked that very question, and recently I've seen an uptick of criticism the City of Los Angeles' car-sharing program with ZipCar focusing around college campuses.
But while the city has been playing ball with a national car sharing program, a local car sharing company has sprouted up right here in Los Angeles.  LAX Car Share doesn't focus on college campuses, but rather has placed cars in seven spots where people in the community can best take advantage of them.
Today we're talking to LAX Car Share's Director of Operations, Melissa Hebert.  Herbert is certainly no motor-head.  When asked what she would change about transportation in L.A., Herbert replied that she wants more people to take transit.
Name: Melissa Hebert
Online Alias - MelissaHebert73
Where do You Live? -  I live in the greater Los Angeles area, but I am from Inglewood
Streetsblog How does LAX Car-Share fit in to helping people lead greener lives on more livable streets?
You run a car-share company.  WhatLAXCarShare fits into the green transportation concept, by encouraging the continued use of walking/biking/riding the bus and using the car, when necessary.  We want to become a permanent component, to the aforementioned modes of alternative modes of transportation.
Streetsblog : What made you decide to go in to the car share business?
I was introduced to carsharing, while working in the Planning & Policy department within UCLA Transportation Services.  Flexcar was brought onto the campus to mitigate traffic and parking congestion, back in 2004-5.  Because I felt that carsharing was unique and definitely would grow in appeal, I left UCLA and started with Flexcar, as their Fleet Manager in Oct. 2005.  There where 16 cars in the initial LA fleet and under my direction, grew to 150, by Nov. 2007.  With the Zipcar-Flexcar merger, my position and eventually the entire LA office was eliminated.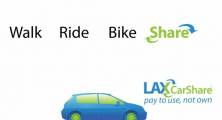 I watched the concept continue to flourish and felt LA residents, especially former Flexcar Members where left without an option.  After careful consideration and much thought (I consulted with the founder of Flexcar and several industry veterans) and decided the time was right to bring a true, local program, that would aim to work with the established transportation provider, who happens to be the nations #1 transit (Metro), to the Los Angeles area.  We want to encourage the use of all alternative transportation methods, not one over the other.  We believe Angelenos are ready for their "own" and will support our service by joining and referring us to others.
I am proud of what we have accomplished, in a relatively small amount of time and we are dedicated to providing our Members with an excellent carshare service that provides excellent customer service.
Streetsblog : What was the main challenge of setting up a Car-Share business?
The main challenge was acquiring the initial funding.
Streetsblog : Los Angeles seems to be working with ZipCar by reserving spaces for them.  Have you had similar success working with them?
LAXCarShare hasn't attempted to formally work with City of LA due to their current arrangements withZipcar.  The current spaces made available to Zipcar,  are surrounding USC and UCLA off campus student housing, not throughout the City, as a whole.  It is apparent the City does desire a carshare program, however, at the time the RFP went out, only Zipcarresponded, and LAXCarShare was not established.  Our goal is to show the City of LA that on-street parking is not the only way to draw attention to a program, by our parking our fleet in established parking garages.  LAXCarShare is committed to a true residential focus and will NEVER look to be included on a college campus.  We believe the permanent resident stands to benefit from a network of alternatives (i.e. walk, ride, bike, share).  It is our belief that the City of LA will acknowledge our presence and will be interested in working with us in the future.
Streetsblog : A lot of people that I talk to think that LAX Car Share is based around the airport.  But when I look at your seven sites, I see Downtown, Hollywood, West Hollywood and Culver City.  Are there plans to expand to the airport (or anywhere else?)
We would love to work with LAX Airport,  in a Joint capacity, and we believe we would bring value to one of the worlds busiest airports, especially in the areas of providing our service to frequent business travelers.  We included "LAX" in our name for two primary reasons:
1. The "LAX" moniker is recognized worldwide;
2. We are proud to be the 1st, LA based carshare, and want our name to reflect that
Streetsblog : If someone wanted a space closer to where they lived, how would they go about getting one placed more near them?
At this time, we are always looking for new locations, which are validated through Member sign ups.  We always welcome suggestions to locate our fleet.
Streetsblog : My last question is always the same.  If you had a magic wand and could change one thing about transportation in Los Angeles, what would it be?
I would love to see more individuals, taking public transportation at least 1-2 times per week, to work.  Most cities have over 60% of the residents, driving alone to work during the 5am-8am hours and only 1-2% taking public transportation.  With all of the options available (transit, rail, bikes, vanpools, etc) and now the introduction of a car, there is room to make considerable improvements to reducing cars on the road and increasing ridership on the transit.
Stay in touch
Sign up for our free newsletter