Transit Advocacy
Update on the Battle Over the Expo Light Rail
2:38 PM PDT on April 4, 2008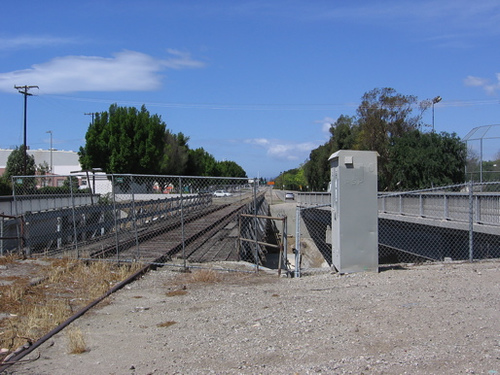 The Future Home of Expo Light Rail
The community update meetings on the progress of Phase II of the controversial Expo Light Rail line are completed.  For anyone who like me was unable to make any of the three meetings, a copy of the presentation is available at the Expo Construction Authority's website. 
Even though there was no pushing and shoving this time, it's clear that both those that wish to kill the project if an at-grade crossing isn't in place at Dorsey High School and those that want the line built either way were not satisfied with the presentation from Expo Construction Authority Staff.  After the jump you can read letters from the Cheviot Hills Homeowner's Association and Light Rail for Cheviot after the jump.
First is the letter from Light Rail for Cheviot, dated March 28, the day after the first outreach meeting.
All,

The workshop last night at Daniel Webster Middle School was disappointing in one major respect: the decisions about at-grade or grade-separation at Overland and Westwood along the ROW or existing Right of Way, alternative 1 for phase 2, are not yet made. These crossings are getting "further analysis," as are the crossings at Barrington and Centinela.

The good news is that from the charts showing land acquisition needs and numbers of grade-separations proposed along the two routes, the ROW looks by far the more likely choice. At-grade crossings on this route are being proposed at 26th St., Stewart, Sepulveda, Military, and Bagley, while the crossings at Cloverfield, Bundy, Pico/Gateway, Sawtelle, and Venice would be grade-separated (and there are already grade-separated crossings in place at Motor and National/Palms). It seems additional car counts are being conducted, and other factors like traffic lights, angles of crossing, etc. are being considered and reconsidered.

Another surprise was the proposed parking lot at Overland and Northvale, on the northwestern side across from Overland School. This lot would accommodate 130-200 cars and it would be reached from Overland. While this would certainly increase the car count on Overland, it would decrease green landscaping, and it would eliminate the Green Corridorconcept we have proposed. Further strikes against the Green Corridor are said to be much of the ROW's status as a "floodplain" from Overland to Westwood, which would necessitate a pumping station and lots of money. However, this status does argue for grade-separation at Westwood and perhaps Overland as well.

In other words, we still have no idea what will be proposed for these important crossings. We do expect the criteria developed and used for phase 1 will be fairly applied and implemented for phase 2, and we await these decisions, which the Construction Authority people say will be out in "another few weeks." They intend to address Neighborhood Councils andHomeowners Associations when they make these decisions, and Light Rail for Cheviot expects to be addressed as well.

Please attend one of the next two meetings (April 1 and 3, 6:30 pm at Crossroads School in Santa Monica and Vista Del Mar Child and Community Services on Motor Avenue respectively) and check out the proposals.

Pay attention also to the lack of a bike path from Palms/National to Overland, to the parking lot at Sepulveda, perhaps smaller than it could be at 260-400 cars, and to the still "tba" parking lot at National/Palms.

Patience....but scrutiny, please. This is going to be our light rail line and we want it to be the best it can be.

Karen Leonard for Light Rail for Cheviot
Next is a letter from the Cheviot Hills Homeowners Association.  This letter was dated April 3rd, after the second meeting but before the third one.
Dear Friends and Neighbors,

The Expo Authority has held two meetings to announce their progress on Phase 2 of the Expo Light Rail project. There is one remaining.

The last of the Expo Community Workshops is this evening, Thursday, April 3, from 6:30 to 8:30 at Vista Del Mar Child and Family Services, 3200 Motor Avenue. Please come and register your concerns on this project.

Expo has revealed the following preliminary crossing decisions:

Overland Avenue: at-grade crossing across Overland Avenue at Overland Elementary School with a 200 hundred car parking lot directly across from the school. Please consider the impacts to pedestrian safety of this design, the impacts to the learning environment of the noise and vibration of trains every 2 minutes, and increased air pollution of blocked traffic on Overland.

Expo expressed problems with the expense of going under the storm drain at Overland, and with privacy and noise issues of elevating the trains. Please consider that there are 2 one-mile long train tunnels, 60 feet deep being built on the Eastside light Rail Extension in Boyle Heights. Why not here?

A station is planned on the right-of-way between Overland and Westwood Boulevard with another 400 car lot at the Westwood end.

Westwood, Military, Sepulveda and Barrington will run at grade. Please consider the impact of north/south traffic, cut through traffic, noise and vibration, loss of privacy to homes in the corridor.

Sawtelle, Pico/Gateway and Bundy will be elevated. The elevation at Sawtelle will require a 75 foot height to clear the 405 Fwy. The run up ramp to that height will be a massive structure inclining and declining as far as 1/4 mile to elevate that high without losing train speed. Santa Monica rejected a similar elevated design intended to go the 1/2 mile from the I-10 to the 4th Street terminus. They chose instead an at-grade route along Colorado Boulevard to the terminus. Please consider how two light rail tracks can be run down Colorado Boulevard when Expo rejected light rail on Venice to the Beach because Venice Boulevard was too narrow!

Please don't miss tonight's important meeting even if you can only come for a few minutes. Overland parents especially need to get involved. Expo planned this meeting in our neighborhood knowing that it coincided with Overland's Open House. Don't let them stop you from getting the facts and examining the impacts of this project on our school.

Stop by the Neighbors For Smart Rail table tonight to say hello and get more information on how you can impact this train project in our community.

Thank you.

Cheviot Hills Homeowners Association
Neighbors for Smart Rail
Image: Coyote 2012/Flickr
Stay in touch
Sign up for our free newsletter