Eric Garcetti
Garcetti Sustainability 'pLAn' One Year Update Shows Environmental Progress
5:04 PM PDT on April 25, 2016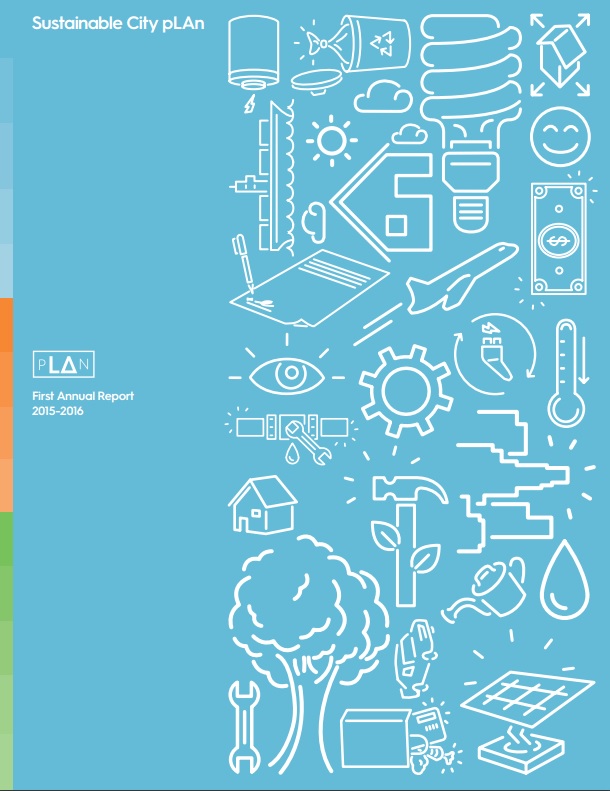 For last week's Earth Day 2016, Los Angeles Mayor Eric Garcetti presented a one-year update on his April 2015 Sustainable City pLAn.
The mayor's ambitious "pLAn" [PDF] serves as a mechanism to keep the city committed to and on track towards various sustainability goals: reducing vehicle miles traveled, reducing traffic fatalities, increasing walk/bike/transit mode share, fostering transit-oriented development, etc. Each policy is accompanied by a specific quantifiable deliverable, including "reduce daily vehicle miles traveled (VMT) by 5 percent by 2025."
Like pLAn, the mayor's new report "pLAn First Annual Report 2015-2016" [PDF] is handsomely designed and far-ranging. And there is a lot to like in this first annual report, though some of it still feels more like the setting of the table than having great programs up and running.
Overall, as one might expect, Garcetti showcases a lot of city progress - "early wins" - on environmental goals. Some "accomplishments" are portrayed as completed when they are actually coming soon. Many of these projects, like Expo Line phase 2, are essentially complete. Other projects and programs are still at very early stages, such as the successful securing of grant funding. A few projects, listed as "Partner Wins," are located outside the city of L.A. Projects like the Gold Line Foothill Extension are not within the direct purview of L.A.'s Mayor, but they positively impact the environment and quality of life for Angelenos.
Readers, what do you think of Garcetti's environmental record? Are his goals the right ones? Is he doing enough to meet them? Where would you like to see more progress?
After the jump are a sampling of year-one accomplishments under the headings from the original pLAn. Most pertinent to SBLA issues are Chapter 7 - Mobility and Transit, and Chapter 13 - Livable Neighborhoods.
Chapter 4 - Carbon and Climate Leadership:
Early wins include negotiating an agreement to sell LADWP's 21-percent share in the coal-fired Navajo Generating Station. This is part of the effort to fully wean the city off coal-generated electricity by 2050. The report also touts the city's completion of its 2013 greenhouse gas emissions inventory, which showed a 20 percent reduction in GHG emissions since 1990. This is great, though this reduction took place by 2013, two years before pLAn.
Chapter 6 - Housing and Development:
Key early wins include securing $30 million in transit-oriented development funding from the state Affordable Housing and Sustainable Communities (AHSC) Program and expanding Metro's joint development affordable housing target to 35 percent.
Chapter 7 - Mobility and Transit:
A couple of key early wins - opening the Metro Expo Line Phase 2 and Metro bike-share - are pretty much there, but not quite on the ground yet. Expo is set to open on May 20. Metro bike-share is anticipated some time this summer.
Other early wins reported include the recent GoLA transportation app, expansion of Express Park to Westwood, extension of the Foothill Gold Line, Wilshire peak-hour bus-only lanes, Silver Line expansion to San Pedro, and, behind the scenes, L.A.'s "Bureau of Contract Administration (BCA) mobilized more inspectors to oversee and help expedite City of L.A. permits needed for Metro Rail Projects ... Expo Light Rail Transit line, the Regional Connector, the Crenshaw/LAX Corridor, and the Westside Subway Extension Projects."
These are all good projects that SBLA readers care about. They match up with pLAn's near-term outcomes for 2017. Hopefully, next year the report will also include snapshots of how these are achieving specific pLAn outcome targets:
Reduce daily vehicle miles traveled (VMT) by 5 percent by 2025
Increase the mode share percentage of all trips made by walking, bicycling, and transit to at least 35 percent by 2025
Increase trips through shared services – car share, bike share, ride share – to at least 2 percent by 2025
Chapter 10 - Air Quality:
Key early wins include installing electric car-charging stations, and additional electric vehicle promotion and encouragement efforts. Other upcoming features include electric car sharing, expanded zero-emission vehicles at the Port of L.A., and conversion of LAX vehicles to electric power.
Chapter 11 - Environmental Justice:
Key early wins include requiring L.A. farmers' markets to accept EBT, approval of Clean Up Green Up, and expansion of additional programs that foster healthy food in underserved communities.
Chapter 12 - Urban Ecosystem:
Key early wins include opening ten new parks and new investment of $6 million in the Los Angeles River for San Fernando Valley bike and walking paths.
Chapter 13 - Livable Neighborhoods:
Key early wins include Garcetti's Vision Zero Directive (and the city's little-heralded Vision Zero open data portal), CicLAvia expansion, Great Streets Challenge Grants events, the Hollywood and Highland's pedestrian scramble, and the identification of "$1 million in funding to upgrade 195 intersections to yellow continental crosswalks around top 50 priority schools."
(Miscellaneous credit where credit due: Not a big deal, but Streetsblog L.A. unknowingly uncredited-ly contributed to the mayor's year one report. See page 50 where SBLA's Gold Line opening and Wilshire bus all-door boarding photos have been credited to Metro. We will take this as a compliment; Metro's budget is orders of magnitude larger than SBLA's budget. Updated: FYI - Streetsblog is published under a creative commons license; this means that SBLA photos are available for free non-commercial re-use as long as the user credits us.)
Stay in touch
Sign up for our free newsletter