Bicycling
Why LADOT Won't Have Its Portion of the Expo Bikeway Done Anytime Soon
1:38 PM PDT on September 9, 2015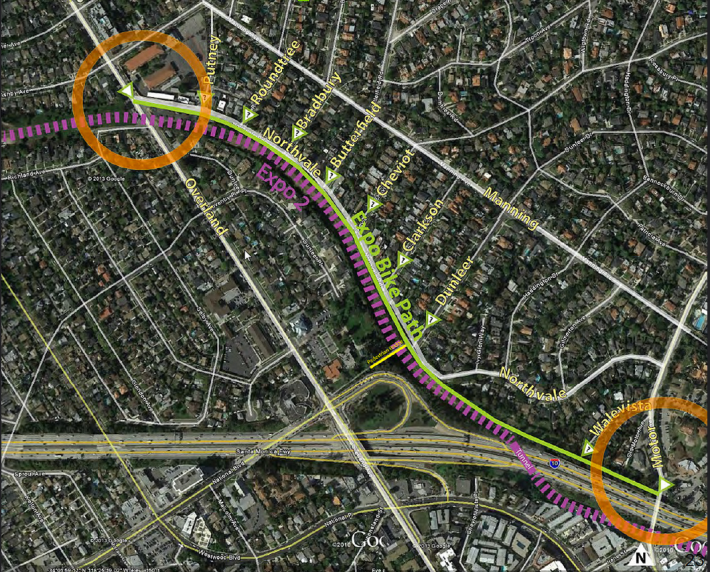 I am City Councilmember Paul Koretz' appointee to the City of Los Angeles Bicycle Advisory Committee (BAC).
Former councilmember Jack Weiss (no relation) appointed me in 2006; Paul Koretz kept me on. The BAC charter says, "The purpose of the BAC is to act in an advisory capacity to the Mayor, City Council Members, and the various agencies of the government of the City of Los Angeles in the encouragement and facilitation of the use of the bicycle as regular means of transportation and recreation."
In 2008, City Council required "Los Angeles Department of Transportation (LADOT) and the Department of Recreation & Parks (DRP) to jointly staff the BAC, with City Planning staff." I've never seen a DRP representative at our meetings, and LADOT stopped keeping our minutes years ago. So much for that. Every city department is underfunded and understaffed (okay, maybe not LADWP). What I'm reporting here – it would seem – results from the staffing and budget problems.
Since I'm also understaffed (just me here), I've chosen to skip one of our bi-monthly BAC subcommittee meetings (where I could listen to staff reports about projects stalled or delayed or cancelled for lack of staff/funding). Instead, I will share my impressions of what my Palms/Cheviot Hills area has gotten from an LADOT Bikeways division relying too heavily on part-timers, short-timers, and interns.
By the way, I personally like most of the city employees. But when things go wrong, they circle the wagons. Many are dedicated civil servants, yet all of them are also working to keep their jobs and their relationships with others in government. That said, I see no point in naming (many) names.
Expo Bike Path
The city of L.A. had Metro funding for the Expo bike path. The path will belong to the respective cities it traverses: Santa Monica, L.A., and Culver City. The responsible politicians promised the bike path would be planned and built contemporaneously with the train. I was not so sure. As a 20-plus year pro-train veteran of the light rail train wars, I warned LADOT of my neighbors' scorched earth approach to stopping the train and everything associated with it. For instance, "Neighbors for Smart Rail" sued all the way to the California Supreme Court to stop the Expo Line, challenging its environmental clearance. (They were probably technically right. But that's another story.)
Fortunately, despite the legal challenges, the Expo Construction Authority moved forward with train construction, creating facts on the ground the Court was less likely to undo. But Expo's approach to the bicycle/pedestrian path was different. The Construction Authority was created to build a train, not a bike path. Sure, they could do both, but, trains!
Unfortunately, when LADOT's environmental clearance was challenged in court by my litigious neighbors, the bike path was unhitched from the train project. The city had to hire an outside contractor to redo the environmental documents and, by that time, Expo had contracted with Skanka-Rados to build the train alone. That resulted in a more costly, inferior, and indefinitely unfinished bike path.
When the bike path was back on track, the city sought only one bid: from Skanska-Rados. And with all the leverage, why bid low? A package train/bike path deal was off the table; plus the builder knew exactly how much the city had to spend.
Skanska-Rados' bid was so high that the city carved out the Cheviot Hills (Northvale Road) section of the path. That section – connecting Palms to Westwood Gardens via Cheviot Hills –  is now delayed indefinitely. Per a recent email from a city planner: "Due to reduced staffing levels at the Bureau of Engineering and the LADOT Bicycle Program, the design of the Expo Bike Path Northvale segment is on a temporary hiatus, and the lack of staffing leaves us unable to answer additional questions on the project."
Wayfinding
So how long does it take underfunded and understaffed LADOT to build a non-controversial project like wayfinding signs? (Hey, if you'd like to ride a bike to UCLA in 25 minutes rather than driving for 30, here's the route! Even people who don't want bike lanes in Westwood could support that, right?) So far, it has taken LADOT more than half a decade.
Here's the tortuous history:
November 2010 (BAC Meeting) – LADOT reported, "Staff is developing plans for bicycle wayfinding signs. Intern working on it"

January 2011 (LADOT correspondence) – "[N] has been appointed to the vacant Bicycle Coordinator position. He began work with LADOT on January 18 and will focus on project[s] like … wayfinding signage …."

October 2011 (LADOT Bike Blog) – "LADOT has applied and received funding for a Metro Call application to establish a bicyclist directional signage program throughout the City of Los Angeles."

March 2012 (BAC Subcommittee Meeting) – "Sign installation will begin this year."

September 2012 (BAC Subcommittee Meeting) – "Fully underway with Bikeways staff and intern. Working on citywide plan to consider costs, will then plan scope of work."

January 2013 (BAC Subcommittee Meeting notes) – Wayfinding doing field work to identify how to put them up. Priority is existing routes and intersections. $500,000. About 1500-2000. Asked them to send them to BAC Board Members in draft form for not distributing.

November 2013 (Emails with N) – "Can you share a timeline for implementing wayfinding signs?" "Sorry, Jonathan. I'm working to get us into the construction phase before June, 2014. We'll have a final map of locations and destinations listed that we'll invite the BAC Bikeways/Planning subcommittees review for comments soonish."

January 2014 (BAC Subcommittee Meeting) – "LADOT will release a public version of the location of the signs soon via the bike blog. BAC members should look for any errors and do basic fact checking in their districts."

October 2014 (BAC Meeting) – "Wayfinding project should have a contractor on board by end of year. [R] will be working on this." (This is when I got in trouble for being too harsh. I (maybe unfairly) questioned new LADOT employee [R] about the delay. I was told by her boss that LADOT wouldn't come to meetings anymore if I kept that up.

February 2015 (M to Me) – "Wayfinding is slowly making its way to the bid process. We are probably at least 6 months from having a contractor on board to begin the sign fabrication and installation. The gentleman who was doing all the work to geocode (and clean up the work that had been previously done by multiple students) the sign data to prepare the bid package for us left the department … and a part-timer is going to finish up w[h]ere he left off."

May 2015 (BAC Subcommittee Meeting) – "Working with engineering staff to finalize the plan before going to bid."

July 2015 (BAC Meeting) – Caltrans working on ROW certification for 865 locations (required by Fed funding).
No staff, No money, and the Westwood Greenway
Staffing is an excuse I have heard for years. I suppose it is valid. Apparently, the city sometimes has money, but it does not want to commit it to full-time positions. But the problem is not always staffing; sometimes, it is how the available staff is assigned.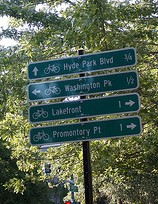 It reminds me of the city having available grant money, but not having staff to apply for it. (I digress. Again.) Sometimes, using an intern means redoing the intern's work. Sometimes (as with the bike path environmental clearance), not using a contractor from the start costs millions and does permanent harm.
Then there's just plain CYA (look it up, if you must).
I've been heavily involved in the push to create the Westwood Greenway, a planned natural park with water cleaning features. The greenway will be located in and along Expo, between Overland Avenue and Westwood Boulevard. It will be on strips of city land straddling Expo right-of-way. Hence it requires cooperation between city and county agencies, including LADOT, the Expo Construction Authority, and Metro.
My Westwood Greenway involvement led me to ask an LADOT engineer for a report to the BAC on the path's location. The community (Greenway steering committee, area HOA, etc.) wanted Expo to build it close to the train's soundwalls, rather than up the middle of the open space. Better use of the space would mean 25 percent enhanced water-cleaning functions. It would also mean a shaded path.
LADOT's engineer C reported that the path would be 5 feet from the soundwalls. He was wrong. And Expo refused to move it when we found out. The BAC advised delaying the Greenway path, so did the L.A. County Bicycle Coalition. But LADOT couldn't agree to that, probably because underfunded/understaffed LADOT wanted no responsibility for that segment, too.
So, Expo built the path right up the middle. To Overland Avenue. Where it stops. (See "temporary hiatus," above.)
Jonathan Weiss practices law, lives in Cheviot Hills, and has served as an appointed representative to the L.A. City Bicycle Advisory Committee since 2009. He is also a boardmember of Streetsblog L.A.'s parent non-profit, the California Streets Initiative.
Stay in touch
Sign up for our free newsletter