Diane DuBois
A Wonky Debate Over Metro Regional vs. Sub-Regional Funding
12:54 PM PST on February 12, 2015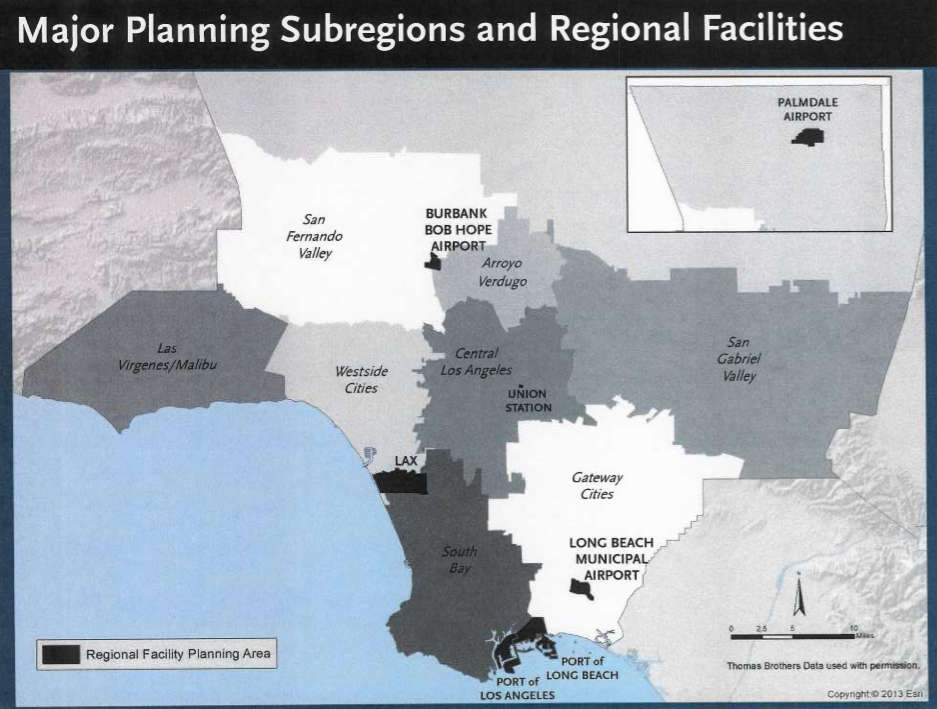 There is an item that was bounced around at the Metro Board last month regarding freeway projects and whether they are "regional" or "subregional" facilities. Lakewood City Councilmember and Metro Boardmember Diane DuBois is pushing for L.A. freeway-widening projects to be classified as "regional" rather than "subregional" projects. Los Angeles City Councilmember Mike Bonin raised some issues over this re-classification. The final decision is likely to come back to the Metro Board for a showdown in April. 
All of this is pretty wonky. It does have implications on transportation funding priorities, including how transit projects compete with highway projects over scarce flexible Metro dollars.
In Metro's 2001 Long Range Transportation Plan (LRTP), Metro divided L.A. County nine sub-regions (map above):
Arroyo Verdugo (Glendale, Burbank, and adjacent areas)
Central Los Angeles
Gateway Cities (Long Beach, and most of South East L.A. County)
Las Virgenes / Malibu
North Los Angeles County
San Fernando Valley
San Gabriel Valley
South Bay
Westside Cities
These sub-regions were mainly used for long term planning, but, since the 2008 Measure R transportation sales tax, the sub-regions have also been woven into the way Metro funds projects.
After Measure R passed, Metro adopted what's called its Measure R Cost Containment Policy (the full formal name is the Unified Cost Management Process and Policy for Measure R Projects.) That policy bills itself as a "new step-by-step cost management process will require the MTA Board to review and consider approval of project cost estimates against funding resources at key milestone points throughout the environmental, design, and construction phases of the Measure R transit and highway projects." These transit and highway projects, are, of course, often multi-billion dollar projects. Examples include $2.8 billion to extend the Purple Line subway four miles, and $3.3 billion to widen about 70 miles of the 5 Freeway. Multi-billion dollar projects are prone to massive cost overruns.
So, according to the cost containment policy, when a Metro Measure R project's costs increase above what has been approved, the agency looks to take specific measures to either lower the costs or get money to cover the overruns. The policy specifies that cost overruns will be met through the following sources in the following order:
Value Engineering and or scope reductions;
New local agency funding resources;
Shorter segmentation;
Other cost reductions within the same transit or highway corridor;
Other cost reductions within the same sub-region;
Countywide transit cost reductions or other funds will be sought using pre-established priorities.
These are jargony. The crux of the matter is that item 5 (and, to an extent, items 2 and 4) means that when projects exceed their budgets, costs will be covered within the sub-region. One project's overruns will reduce the budget for other projects in the same sub-region where the project is located.
In January, the Metro board established a special set of regional projects immune to the sub-regional cost overrun procedure. All airports, sea-ports, and Union Station are classified as "regional" projects (see map above), because theoretically everyone in the county benefits from, for example, LAX and Port of Long Beach improvements. For these regional projects "cost increases to Measure R funded projects... are exempt from the corridor and subregional cost reduction requirements. Cost increases regarding these projects will be addressed from the regional programs share."
Metro boardmember, and Lakewood City Councilmember, Diane Dubois, along with boardmembers Don Knabe and Ara Najarian, introduced a motion [PDF] that would essentially classify "[i]nterstates, freeways or highways" as regional projects, hence "highway sub-regional funding will not be subject to the Unified Cost Management Process and Policy." Though the motion requested that Metro staff analyze and report back, it clearly specified that highways would become exempt from the cost containment process in the meantime. 
The DuBois motion asserts that, with highway projects managed by Caltrans, a state agency, Metro, a county agency, does not actually control highway project costs. While there is some validity to this, there is also quite a bit that local jurisdictions can do to hold the line on large project cost escalation. At the January Planning and Programming Committee, David Yale, Metro's Managing Executive Officer for Countywide Planning & Development, stated it pretty well "some of what Caltrans is doing to define project scope is influenced by cities along the corridor."
For example, if Caltrans decides to widen the 101 Freeway in Hollywood, and the project involves replacing roadway bridges over the 101, then the city of L.A. can insist that Caltrans rebuild bridges wider than they had been, and potentially fancier - demanding various bells and whistles. The same happens with transit construction; city, county, and state mandates (such as road widening) kick in and, to an extent, drive up transit construction costs.
With limited funding at stake, the stakes become political. Politicians push to steer more and more resources into areas they represent. Metro has a difficult time refusing. Costs escalate.
DuBois represents the Gateway Cities sub-region (Southeast L.A. County), an area that focuses more transportation funding on highways than on transit. (The San Fernando Valley is in a similar situation.) Measure R has separate pots of money for highways and for transit, including separate contingency funding set aside for cost overruns for highways and for transit. But there is also some flexibility in some Metro funding, so, in some ways, whoever cost overruns first and most gets to suck up money that will not be available later for anything else.
DuBois' motion, by exempting highways from cost containment that would still apply to transit, effectively prioritizes highway spending over transit spending. It is her job to do this, because it puts her highway-heavy sub-region at a slight advantage over more transit-heavy sub-regions.
At January meetings, Metro boardmember, and L.A. City Councilmember, Mike Bonin pushed back on DuBois motion. Though Bonin was one of the authors of carving out LAX as a countywide benefit, he expressed skepticism about lumping Metro highway projects into the regional category, effectively gutting Metro's cost containment efforts. Bonin asserted that L.A. County's rail system is no less regional than its highway system. Bonin supported Metro staff studying the highway cost containment exception, and bringing a policy recommendation back for a full Metro board vote.
In a statement to SBLA, Bonin clarified his position:
Protecting the funding of our transit system is vitally important to me; it is essential to making sure residents of Los Angeles get the multi-modal transportation system they need and deserve. I'm very wary of any approach that even hints at giving freeways priority over mass transit. Any attempt to change funding formulas needs to considered thoughtfully, carefully, slowly and with lots of public input.
Right now, Metro staff are studying how this can be carved up. The matter is expected to return to the Metro board in April, with a possible showdown pitting highways vs. transit.
Stay in touch
Sign up for our free newsletter