pedestrians
Walking in (South) L.A.: It's Hard Out Here for a Pedestrian, Part I
3:34 PM PDT on July 18, 2012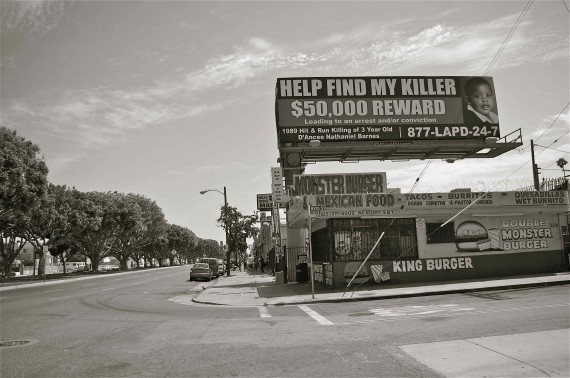 "Only a nobody walks in L.A." blared at me as I strolled into the grocery store.
"Bullshit," I muttered to myself.
The security guy raised an eyebrow.
Protesting I was not a crazy mutterer by way of explaining how I had spent the afternoon walking around in front of a motel, chatting up an elder prostitute, and being tailed by a pimp on a mountain bike would not have mitigated his concerns about my sanity. So, I shut my mouth and headed for the yogurt aisle.
But the song continued, loudly listing off all the poor saps who walk, including potential freeway stranglers, shopping-cart pushers, and someone who could possibly be groovy but was definitely not in the movies.
Most of the time, I am mildly amused by the cynicism of "Walking in L.A." But I had spent a couple of depressing days hoofing it in the streets and gathering information on drive-bys and pedestrian deaths, including the hit-and-run that killed an acquaintance's 78 year-old father. So, I wasn't feeling all that lighthearted regarding questions of walking.
Jimmie Thomas was thrown more than 30 ft. when struck by a car around noon on the 18th of June. He had been crossing Western Ave. just south of 55th St., a busy corridor for both cars and prostitutes. According to the LAPD, the driver of the black SUV, a glasses-wearing black male in his mid-30s, did not stop to render aid.
A witness I spoke to said the driver -- who was in a black Honda or other small car -- did stop to try to help out. But he took off before the police arrived. In the hysteria of trying to aid the victim, the witness said, nobody paid too much attention to the license plate or identifying information of the driver.
"I hadn't heard that," mused Officer Mendoza when I called to ask about the incident.
I paused, unsure how to respond.
I wasn't sure that my information was accurate, either.
Outsiders asking questions are not necessarily welcome in that area. The spot where Thomas was struck is just south of the Bronco Motel, a locale that appears to be a haven for young (and possibly underage) prostitutes. On the day that I was there taking pictures and asking questions, I was given the stank eye by their pimp, who parked himself (on his decrepit mountain bike, no less) maybe 20 feet from me while I talked to a witness.
He was clearly concerned I might be the police.
Glancing across the street, I could see why. A young African-American girl in a tank top and tiny denim shorts was headed toward the motel with an older white male. She hadn't been with that guy when I'd seen her sharing a popsicle with a co-worker on the corner 10 minutes earlier.
"What are you, the police?" demanded an elder prostitute once the pimp had moved north to the corner behind me.
I explained I was following up on the case of the gentleman that had been run down a few weeks prior.
She nodded. It had been horrible, she said. It was a shame.
We watched the young girl disappear with the john.
"You know that girl is only seventeen?" she gestured half-angry, half sad at the scene across the street. "And she already has a pimp!"
We both shook our heads as the pimp glared at us from the corner.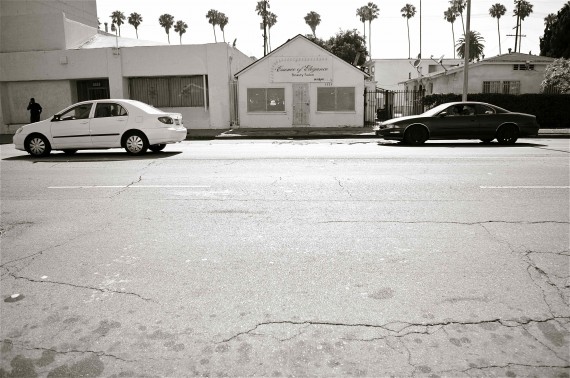 I wouldn't have even known about the hit-and-run if Thomas' son, Brent, hadn't come into the Watts Cyclery, where I was talking with the owner about the possibility of starting a co-op out of the shop. While waiting on his bike, Brent chatted me up about this and that, only talking about his father's death when a friend mentioned he'd been moping lately.
The story had never made the news.
In fact, Officer Yount, the investigator from the South Traffic Division told me, Thomas' wife was deeply frustrated that no one from the media wanted to talk to them about their story.
It was hard to know why not. A week after Father's Day, an elderly father and respected man in the community is brutally mowed down in the street and clings to life for a week before he finally passes. The story is certainly horrific enough.
But there was no footage of the incident, as there was in the horrific case of a man run down by two cars and dragged 200 feet on Central Ave. In contrast to the tragic case of a cyclist killed along the PCH, there isn't a well-organized army of activist pedestrian compatriots ready to pressure authorities when one of their own is left to die in the road. Finally, as yet, no reward has been offered for information on the perpetrator.
It all adds up to radio silence.
"It happens all the time," sighed Investigator Yount, all at once referring to the high incidence of hit-and-runs in South L.A., the mowing down of pedestrians of color, and the disinterest of the wider media and public in their cases.
Anecdotally, this seems to be true. But, pinning down just how often "all the time" is is no easy task. In fact, I had to wonder if part of the reason that these cases seem to fall through the cracks is because it is so hard to track them.
Although notice will be put out by a division at the time of an incident, it isn't captured in the LAPD's crime mapping system. The incidents are technically not homicides and there is no specific category for "hit-and-run."
I tried tracking down the data on my own, which means either poring through daily updates one-by-one or combing through each division's annual summary of traffic fatalities. Both are incredibly time-consuming approaches and the latter doesn't capture cases where pedestrians survived, leaving you with a only partial picture of the problem. Even simply finding the reports on the LAPD site in the first place can take some significant time.
It should be easier to track these cases because, contrary to the song, tons of people walk in L.A. Especially in areas like South L.A., where economic circumstances, not choice, often dictate people's mode of transit. It is important to know whether or not pedestrian deaths are due to lack of infrastructure, lack of pedestrian education, or some other factor so that measures can be taken to mitigate the problem in real time.
The best source of information I have found on pedestrian collisions in L.A. is a LADOT report detailing the circumstances behind the nearly 3,200 traffic collisions a year involving pedestrians between 1994 - 2000, almost one-third of which were hit-and-runs. The report is fascinating, but out of date, considering the recent explosion in cycling, renewed interest in sustainable modes of transport, and recession that has left many with fewer transit options.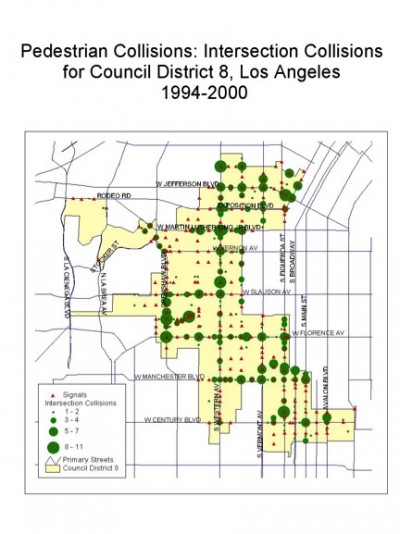 At the moment, I'm waiting for the LAPD to send me some data on pedestrian deaths for this year. In the next week or two, I'll be talking with members of the  Pedestrian Advisory Committee to learn more about pedestrian issues, hit-and-runs, and the challenge of figuring out who walks in L.A. and how.
Please, stay tuned.
Sahra is Communities Editor for Streetsblog L.A., covering the intersection of mobility with race, class, history, representation, policing, housing, health, culture, community, and access to the public space in Boyle Heights and South Central Los Angeles.
Stay in touch
Sign up for our free newsletter