Bike Nation
Behind the Scenes of Bike Nation's Deal with Los Angeles
9:36 AM PDT on June 26, 2012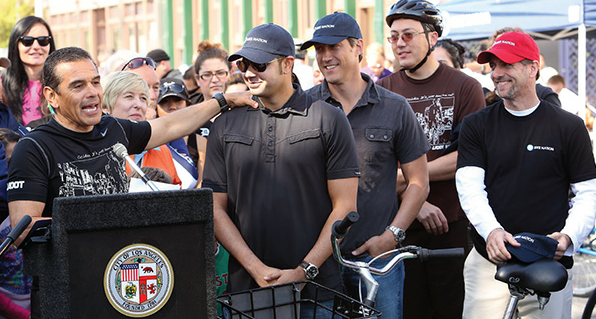 On the morning of April 15th, Mayor Villaraigosa walked up to the press conference kicking off CicLAvia and announced that Bike Nation, a new bike share company, would invest $16 million in creating a bike share program for Los Angeles.  Bike Nation would bring 4,000 bikes, 400 kiosks to communities in Downtown Los Angeles, Hollywood, Westwood and Venice Beach.  Of that $16 million, 70% is for capital (kiosks, bikes, etc…) and 30% is for bike share operations.
The announcement caught nearly everyone off guard.  Outside of a small group of CicLAvia Board Members and media members the city had kept a tight lid on the announcement.
While the secrecy helped make a big splash at L.A.'s biggest Livable Streets event, it also led to confusion and criticism from some quarters that one would expect to be sympathetic.  Rumors swirled, including one that Bike Nation was an AEG front group (it's not).  Others attacked Bike Nation for exaggerating the uniqueness of their patented chain free bicycles or for biting off more than they can chew by promising the nation's second largest bike share program.
Further complicating things, Bike Nation's relationship with Los Angeles is different than the model used in most cities.
In the year before Bike Nation announced it was coming to Los Angeles, Metro was working with a handful of bike share vendors to bring bike sharing to Los Angeles County including Bike Nation, B-Cycles and Alta Bike Share, a partner with Alta Planning and Design.  At the time, many assumed that when bike share did come to Los Angeles, it would be a subsidized program similar to the ones in Washington D.C. and the one coming to New York this year.  When a bike share program is subsidized, a formal Request for Proposals (RFP) is released where vendors compete for the contract and funding.  Their proposals show where they will place bikes, how many they can place in certain locations and what the other revenue streams to support the system are.
But Bike Nation's business model doesn't require a subsidization which frees them from some of the commitments required by an RFP.  Between what it charges users, and what it will sell in advertising, Bike Nation expects to make a large profit over the next decade in Los Angeles.  A rival company estimated that the advertising that could come from a functioning bike share system with 4,000 bikes could be $40 million over the next decade or 250% of Bike Nation's initial investment.
As Lisa Sarno, with the Mayor's office put it, Bike Nation's offer "Allowed the city to leverage and speed up the process for bike share."
Seeing the opportunity, Bike Nation came to the city of Los Angeles not with a proposal but with a request.  "Create a system to permit bike share installation and we'll make the investment to make that system work."  Bike Nation has repeatedly said it didn't have an exclusive deal with the city, and they're right.  They have a commitment to apply for permits to put in kiosks and bikes.  In this way, Bike Nation skipped the RFP and went straight to permitting and soon thereafter installation.
"To date, bike sharing systems have been reliant on government funding and ongoing operational subsidies," explains Derek Fretheim, the Chief Operating Officer for Bike Nation.  "We saw a way to create a bike share program without using those subsidies and began promoting a private venture strategy earlier this year."
City staff believe they can have the permitting system created by the fall so installation can begin before the end of the year.  "Quite frankly, this is the first time we've done this in the City of Los Angeles," Sarno says of creating the bike share permitting process.
Such an arrangement has one obvious benefit for the city: it will have a bike share system it couldn't afford to pay for.  But there are drawbacks.  If one considers bike sharing as a form of public transit, a system where the local government has less say on placement, upkeep, bicycle conditions and other safety issues is just that: a system where the government has less say on placement, upkeep, bicycle conditions and other safety issues.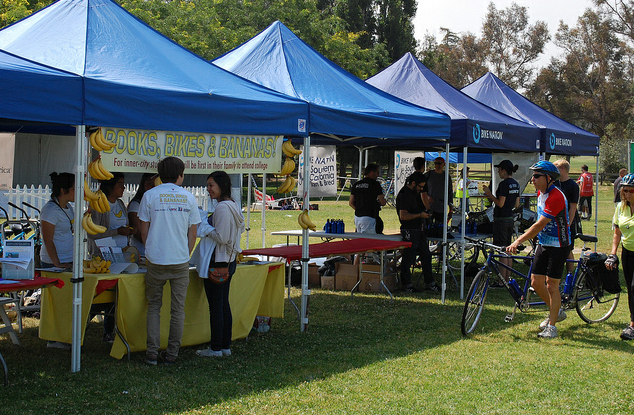 Alexis Lantz, the planning and programming director for the Los Angeles County Bicycle Coalition, is excited about bike sharing but has some reservations about the process.
"There definitely is something we lose in not having an RFP and not having a process around what we want, and regional connectivity," argues Lantz.  "There's other things that we might lose out on."
There are benefits to doing an RFP process so that the various systems can compete and create a dynamic bicycle transportation system.  Instead of that process, Los Angeles will have a permitting process and an LADOT bicycle division working with Bike Nation to see that the bike network exists to support the kiosks and bikes that are put in place.  Downtown Los Angeles, with both the existing network and the one that is underway seems like a natural fit to Lantz.  Westwood and Hollywood are two other areas that still need more work for a novice cyclist to feel comfortable on the street.
One specific concern Lantz has is about the equity of the system.  Will Bike Nation have a plan for people who don't have credit cards or access to the Internet?  A video by Reason TV, a libertarian group that has long been skeptical of public investment in bike sharing, slammed D.C. bike share for not getting enough bikes in the hands of lower income people and people that weren't white, young and college educated.  While Reason would doubtless have less issues with Bike Nation's plan, after all they're all about private investment, their point about equity stands.
As both Bike Nation and the Mayor's Office point out, just because the city permits a private vendor to have a bike share operation on city streets doesn't mean that an RFP couldn't be completed in the future to create a more traditional bike share vendor/city relationship.  It's hard to picture Bike Nation not having a major leg up in such a process, but it still could happen.
In the end, Lantz believes that bike share can work under the permit system,"Bike Nation has everything to lose by not having a successful implementation."
For its part, Bike Nation is reaching out to both public and private entities about kiosk placement.
"Connectivity to transit, employment centers, educational facilities, points of interests and other related locations is paramount," Fretheim adds. "We are placing kiosks in public right of way and private businesses.  We have already received a number of calls from businesses that have approached us to consider their locations.  Determining kiosk locations is an ongoing process and we plan to release tentative locations in mid to late July."
Neither Bike Nation nor city staff predict that bike share will be an overnight success in Los Angeles or that the permitting and kiosk placement system won't need some tweaks.
"Anything that's new, that's never been tried before, the first iteration might need to be tweaked," explains Sarno.
Bike Nation opened a portion of its first venture in Anaheim this past weekend.  Streetsblog is taking a field trip this Friday to test the system,  We'll have a full report on the bikes, kiosks and everything else next Monday or Tuesday.  And yes, a Bike Nation membership purchased in Anaheim will work just fine in Los Angeles later this year.
Bike Nation has clarified that the Anaheim launch won't be until late July.  I based the last paragraph off this article in the Orange County Register, but staff at Bike Nation clarified that the launch was moved while some logistics were ironed out.
Stay in touch
Sign up for our free newsletter