environmental justice
Transportation and food Access idea 3: Regional Food Hubs
9:26 AM PST on November 15, 2011
I've written about how transit could be improved  and sidewalk vending legalized to increase access to healthy food. Before food can get from stores and food trucks and carts to shoppers, it first has to be transported from farms, through distribution chains, to retail sources. This third installment in a short series on transportation and food access considers how we can improve food distribution channels to expand the availability of good, healthy food in the Los Angeles region.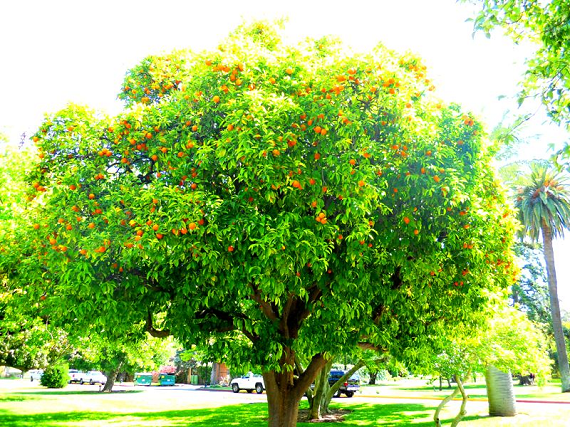 Orange empire
Los Angeles grew up around three discoveries of what the local soil was good for. First, the ground harbored petroleum. Second, and probably more significantly, it was good for growing citrus at a time when a confluence of plant breeding and the completion of transcontinental railroad links with refrigerated cars made it possible to grow fruit here and ship the produce eastwards.  Third – linked to the second by way of picturesque citrus crate labels that advertized a pleasant life in the sun –  the land was good for subdividing.
As a result, the L.A. region boomed first as an agricultural zone and then as a population center.  In 1910 there were 8000 farms in Los Angeles County and the county was the most economically productive ag county in the state, probably number one in the country as well, with 1.7 million orange trees and more than 7000 'backyard' cows not on farms but kept for milk like someone might have a chicken nowadays.
The population of Los Angeles County rose by 1197 percent between 1900-1930, the golden years of local agriculture, followed by a second demographic jump in the 40s and 50s and a third in the 90s. Groves and fields were converted to houses, businesses, asphalt.  Today, there are approximately 90 farms left in L.A. County, now ranked the 28th leading agricultural county in the state.
Regional food hubs
There is still productive farmland in surrounding counties and the Central Valley of California is one of the world's leading producers of fruits and vegetables.  The challenge is how to expand distribution of fresh fruits and vegetables and other local agricultural products to underserved neighborhoods while also enhancing the incomes of remaining small and medium size farmers. When we were conducting the Food and Transportation in South Los Angeles project that I have written about, local residents noted the irony that it was hard to find good quality produce in areas that were, in some cases, just dozens of blocks from the terminal produce market, food warehouses, and the highways that serviced these storage facilities. How did a mismatch arise between California's massive production of produce and parts of Los Angeles where it is hard to buy fresh fruits and vegetables?
According to a 2010 report by my colleague Sharon Cech at UEPI and other members of the Regional food Hub Advisory Council, the rise of industrial scale agriculture hollowed out the infrastructure that used to allow local food to be distributed, processed, stored and sold in the region.
"The once vast array of mid‐scale food businesses such as packinghouses, independent processors, and regional grocery stores are feeling the effects of the trend of consolidation occurring in the food industry… The mainstream food system, which increasingly favors large‐scale production–mega grocery chains contracting directly with mega growers– has undercut the terminal market system and the independent grocery stores that they supply… Mid‐size wholesale customers are critical for mid‐size growers who are not big enough to sell to large grocery chains or institutions but cannot afford the transaction costs of selling their entire production at farmers' markets. There is significantly less labor involved in selling a single 1,000‐pound order of oranges than in selling the same oranges to 500 customers, two pounds at a time."
Their solution is to promote regional food hubs as a way to aggregate food from small and medium farmers in a manner that can reach wholesale, retail and other distribution channels.  You can think of a regional food hub as a warehouse where food from multiple farmers is aggregated together so that there are sufficient quantities to interest mid to large scale buyers. The hub would be different from existing produce markets in also selling food at the retail scale through a permanent farmers market or on-site stores. There could also be commercial kitchens for use by small scale food enterprises and cooking classes; office space for community organizations or meetings; refrigerated trucks to source from local farms; and possibly a commissary with a fleet of fruit carts and/or grocery trucks to sell in different neighborhoods.
The wholesale warehouse + retail/ farmers market model isn't the only form that a food hub could take. Regional food hubs could be developed by commercial food distributors who focus on local products, by farmers cooperatives, or even by one some of the region's larger farmers markets (where restaurants and small distributors already shop). Information technologies that match farmers and buyers or that allow farmers to coordinate deliveries can also fulfill some of the functions of a food hub while a physical hub is being planned. The regional food hub report has case studies of multiple models of hubs.
Ideally, a regional food hub or hubs in Los Angeles could be at the center of distribution channels for local and healthy food. Farmers' markets or food stores can operate mobile or satellite markets, taking vans or stands to different underserved areas. Cargo bikes could deliver food between wholesale markets and farmers markets and restaurants and food stores. Social marketing and promotional campaigns can expand demand for locally grown food at new outlets like WIC only stores. Produce trucks and fruit carts that sell in low income areas could source from a food hub. Excess produce from local farms and backyard orchards can be picked and donated to food banks such as California Food Banks and Food Forward.
A greener warehouse
If a regional food hub occupied warehouse space, there is also potential to demonstrate how a wholesale distribution business can be more friendly to surrounding communities. Large warehouses abound in the Los Angeles region, linked especially to the storage and transshipment of products imported into the Ports of Los Angeles and Long Beach. The trucks and trains that carry freight to be warehoused (and trucks idling their engines at or near warehouse sites) pollute by emitting small toxic particles called particulate matter (PM) into the air. Particulate emissions from diesel vehicles and equipment contribute to health risks that include cardiovascular problems, cancer, asthma, decreased lung function and capacity, reproductive health problems, possibly brain tumors and premature death.
Trucks servicing warehouses also sometime park and idle on public streets when facilities do not provide adequate on-site parking. Warehouses are aimed at distant points: factories in china, railyards near the port, big box stores in Arizona, rather than connected to the fabric of life in the communities in which they are located. But a regional food hub with retail shops, a farmers market and other space open to the public could 'reinvent the warehouse' to make it a community asset. Warehouses could be electrified so that arriving delivery vehicles plug in rather than idle their polluting diesel engines. In the mid to long term all new trucks should have electric rather than internal combustion engines.
Stay in touch
Sign up for our free newsletter