Public Health
By 2015, Nearly One in Five Angelenos Won't Have Access to Transportation
12:42 PM PDT on June 14, 2011
(Tanya Snyder at Capitol Hill Streetsblog covered the report from a national standpoint, her article is here.)
It's the stuff of nightmares.  As people grow older, they face the fear that as their body ages, they will have fewer and fewer options to help them get from one place to another.  Denied this basic right, they eventually find themselves isolated in their homes, with few options to interact with other people on a daily basis.  According to a new report from Transportation for America, by 2015 over 15.5 million people over the age of 65, including 17% of senior Angelenos, will face this dilemma.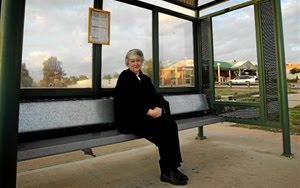 The report, Aging in Place: Stuck without Options, ranks metro areas by the percentage of seniors with poor access to public transportation, now and in the coming years, and presents other data on aging and transportation.  Our local population will continue to age and without continued investment in transit services that address their needs to access the healthcare, goods, and services they depend on seniors that are no longer able to drive will find themselves increasingly isolated.  Los Angeles is a city in the middle of the pack when it comes to senior mobility, but that doesn't mean the city can rest on its laurels.
What does a lack of transit for seniors mean?  It means less living, and less life span.  Seniors who no longer drive take 15% fewer trips to doctor, 65% fewer trips to see loved ones.  If you take away their transit options, those numbers rise dramatically.
"Older adults rely heavily on public transportation for a greater share of their trips and want to stay in their homes and communities where they are closer to friends, family and vital services.  As the aging population increases, improving access to public transit services is critical.  It's a lifeline for many elderly and low-income Californians who want to remain independent, but don't have a car or are unable to drive.  We hope this report will continue the dialogue on mobility options that addresses the needs of our aging population," said Charee Gillins, Associate State Director of Communications, AARP California.
The analysis by the Center for Neighborhood Technology evaluates metro areas within each of five size categories.  It shows that in just four years, 480,000 seniors in our region will live in neighborhoods with poor access to options other than driving, an increase of 118,000 over the year 2000. For metropolitan areas of more than 3 million people nearby counties of Riverside and San Bernardino will rank as the second worst in the entire country, behind only Atlanta.  69 percent of seniors will face poor transit access in these counties.  In Los Angeles, the number of seniors facing this hard reality will increase by 51 percent.
The city and county find itself in a bit of a good news/bad news situation.  The good news is that the promise of Measure R and the 30/10 (America Fast Forward) program should bring plenty of rail options to seniors around the city and county.  The bad news is that Metro, and City DASH, is both cutting service and increasing fares at an alarming rate.  On June 26, the 305,000 hours of bus service passed back in the March Metro Board Meeting.
For Los Angeles to achieve its transit expansion goals and not leave too many bus riders stranded, its going to need a hand from the federal government.
"Los Angeles County is embarking upon an ambitious transit expansion program to benefit seniors and all citizens with access to efficient, affordable, and reliable transportation options," said Ryan Wiggins of Transportation for America. "As the senior population grows their ability to be mobile and active is critical to the future economic welfare, public health, and social vibrancy of the region. To realize these plans the federal government must continue as a partner to provide the transit funding needed for regions like Los Angeles to build a comprehensive transportation system that serves everyone."
As Congress debates the best way to reauthorize the federal transportation funding bill, Transportation for America outlines some ways to head off transportation isolation for seniors:
Increase funding support for communities looking to improve service such as buses, trains, vanpools, paratransit and ridesharing;
Provide funding and incentives for transit operators, nonprofit organizations, and local communities to engage in innovative practices;
Encourage state departments of transportation, metropolitan planning organizations, and transit operators to involve seniors and the community stakeholders in developing plans for meeting the mobility needs of older adults;
Ensure that state departments of transportation retain their authority to "flex" a portion of highway funds for transit projects and programs;
Include a "complete streets" policy to ensure that streets and intersections around transit stops are safe and inviting for seniors.
Stay in touch
Sign up for our free newsletter