The Measure J Page
Disambiguation note: If you're looking for information on the November 2020 Measure J "Reimagine L.A. County" initiative, please see the initiative webpage. The information below is about Metro's 2012 Measure J sales tax initiative. 
[caption id="attachment_76491" align="aligncenter" width="576"]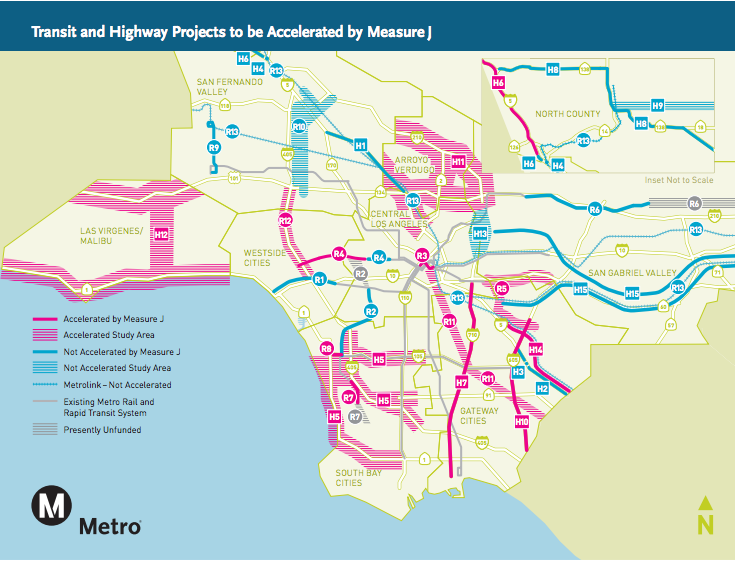 For a much larger version of the Measure J map, in a high resolution pdf, ##http://www.metro.net/images/measurej/project_map.pdf##click here.##[/caption] As part of our ongoing mission to inform the general public, L.A. Streetsblog offers "The Measure J" page. We endeavor to make this page a one stop shop for all the information about the ballot measure. Hopefully, writers, editors, opinion makers and the general public can use this information, and the links we provide, to best make their own decision on how to vote in December.
What is Measure J:
Measure J will extend for 30 additional years the existing one-half cent sales tax that was approved in 2008 and is currently set to expire in 2039.  The additional funds will be used to sell bonds, which will allow Metro to accelerate construction of transportation improvements. The average L.A. County family pays $25 a year because of the existing tax. Because it does not increase the cast, just extend it, the cost per family will rise as the cost of living increases. Source:
Metro's Measure J Page
Voters passed Measure R sales tax with 67.1% approving in 2008. Measure R needed, and Measure J needs, two-thirds of voters to approve for it to pass. Source:
Streetsblog
Informative/Undecided Articles and Links Concerning Measure J?
Editorial: Can L.A.  Afford an Indefinite Tax for Transit -
Los Angeles Times
Goodbye "Measure R+," Hello for "Measure J" - 
Daily News
Los Angeles Votes Asks Its Voters to Extend Transit Tax Far Into the Future -
Transport Politic
L.A. County Hoping to Speed Up Transportation Infrastructure Projects -
Better Institutions
Westside Urban Forum, Forum on Measure J
-
WUF Wesbite
Measure J Would Extend Sales Tax to 2069, Accelerate Transportation Projects -
Daily News
Yes on J:
Who Supports Measure J:
Move L.A. The Transit Coalition Southern California Transit Advocates Los Angeles County Bicycle Coalition Cities of Los Angeles, Santa Monica, South Pasadena Los Angeles Area Chamber of Commerce
More Endorsements
Newspaper Endorsements of Measure J:
Los Angeles Times
Los Angeles Daily News
 - Syndicated in SGV Tribune/Long Beach Press-Telegram/Daily Breeze/Daily Bulletin/Pasadena Star-News
Positive Articles on Measure J:
Measure J Campaign Brings in $2 Million
- Times
5 Reasons to Vote Yes on Measure J
- City Watch
Measure "J" as in Jumpstart
- City Watch
No On J: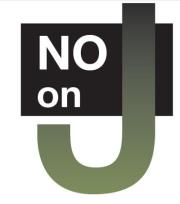 Who Opposes Measure J:
Los Angeles County Supervisor, and Metro Board Chair, Mike Antonovich (Source: 
Streetsblog
) The Bus Riders Union Crenshaw Subway Coalition Beverly Hills Unified School District East Yard Communities for Environmental Justice Union de Vecinos Republican Senate Leader Bob Huff (Monrovia) (Source:
Patch
) Los Angeles City Councilman Bernard Parks (Source: 
City Watch
) A full list of politicians and organizations opposed to Measure J can be found
here
.
Editorials Opposing Measure J :
Orange County Register
Articles Negative On Measure J:
Say What? You Want Another $50 Billion? -
City Watch
Beverly Hills School District Opposes Measure J -
Patch
Measure J Transit Tax, Too Soon? -
L.A. Weekly
Beverly Hills School District Opposes Measure J -
Times