L.A. Streetsblog 2011 Government Worker of the Year: Rye Baerg
[caption id="attachment_67111" align="aligncenter" width="200" caption="Photo: ##http://lacbc.wordpress.com/2011/02/18/city-of-la-bicycle-parking-ordinance-update/##LACBC##"]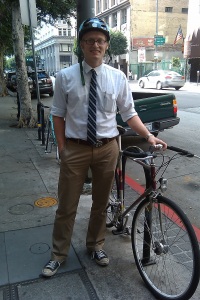 [/caption]
There were a lot of strong candidates for this Streetsie.  At City Planning, Claire Bowen seemed to be at the hear of several major stories, including the fixing of the Draft Bike Plan in the 11th hour.  Paul Backstrom in Councilman Rosendahl's office wrote and advocated for many major pieces of legislation and had the class to work with Streetsblog on our Wilshire Bus Only Lanes stories in a professional manner even though our editorial position was at odds with the Councilman's.  Lennie LaGuire (Zev), Jeremy Oberstein (Krekorian) and Tony Arranaga (Rosendahl) are bringing communications from political offices into the 21st Century with their work in online media.  The list goes on and on.
But one of the stories of 2011, that will probably be a big story in 2012, is the attempt to modernize the city's woefully inadequate bike parking ordinance.  Baerg worked tirelessly on this project, working with advocates, soliciting input from the public, guiding the project at City Planning, and doing all the little and big things that help long-standing policies change into new and better ones.  Now the City Council directed the city attorney to formally draft the changes needed to create a bike parking policy that would literally create thousands of new bike parking spaces as new developments are created.
Oh, and Baeg did all of this as an intern at City Planning, and one that wasn't drawing a salary at that.
We couldn't give him a salary, but we could give him a much-deserved award.