L.A. Streetsblog 2011 Advocate of the Year: Sunyoung Yang
[caption id="attachment_67109" align="aligncenter" width="572" caption="To watch Sunyoung in the LACBC's campaign video for the 7th Street Bike Lanes, click ##http://www.youtube.com/watch?v=FqXpBItDss0##here.##"]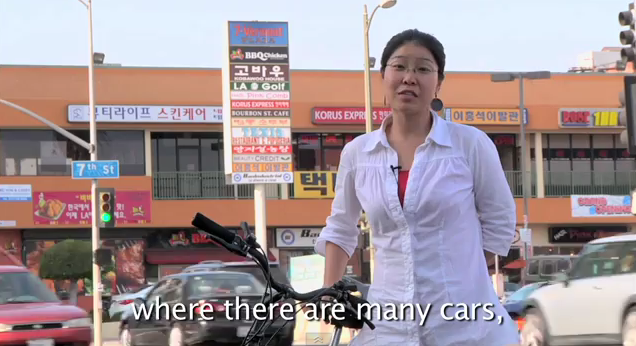 [/caption]
In a year that saw unprecedented growth in the city's bike infrastructure and hosts of other major stories, perhaps the largest political victory of the year for the Livable Streets movement was the one to preserve the planned bus-only lanes on Wilshire Boulevard in Brentwood.  While there are a lot of people that deserve credit for that victory, Bart Reed certainly comes to mind, the Bus Riders Union's Sunyoung Yang was front and center in the public eye and in the political lobbying effort that preserved that section of the bus only lanes.
But Yang didn't get the unanimous nod from the LA Streetsblog Editorial Board (and yes, that includes Dana Gabbard) just for winning the fight, but for way in which the campaign was carried out.  Using her leadership role with the Green L.A. Transportation Working Group, Yang rallied the environmental community, their traditional allies in the communities where the BRU regularly works, as well as transit advocates that let's say aren't always on the same side of an issue as the BRU.
One of the enduring memories of 2011 was all of the bicycle advocates getting together to fix the Draft Bike Plan and celebrating together when it was over.  The transit kumbaya was a lot less noticed, but I'll never forget chatting with Yang after a BRU press event on the Bus Only Lanes where So.CA.TA. Board Member Joe Dunn spoke forcefully about how Westside politicians shouldn't let a handful of people in Brentwood and Beverly Hills push them around.  Yang beamed at the coalition she helped build and told me about the strategy phone calls she was having with the Transit Coalition's Bart Reed and all the other work groups were doing to get the bus lane saved in Brentwood after the dissapointment of losing a mile of bike lanes in "Condo Canyon."
And she still found time to co-star in LACBC videos on the 7th Street Bike Lanes.
With Metro in the planning stages for more bus only lanes projects in the coming years, it's going to be important for transit advocates and other groups to remain united to see these lanes into fruition, even if they disagree on other transit issues.  Given her record, Yang seems to be the leader ready to lead those fights.